H&M Dropped A New Swim Collab & You'll Want These Belted Swimsuits, Stat
H&M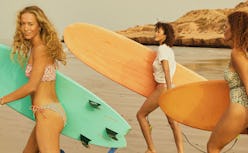 It's no secret that H&M knows a thing or two about fashion collaborations. With high-end designers such as Erdem and Moschino under its belt — and Giambattista Valli well on its way — the affordable fashion retailer has become known throughout the industry for its highly sought-after collaborations. For its latest launch, the brand has teamed up with lingerie and swimwear brand Love Stories to create a beautiful collection of beach-ready staples. And if this collaboration is like those from the past, you're about to see pieces from the Love Stories x H&M collab everywhere.
Perhaps you're already a fan of Love Stories, but just in case you aren't, it's time to get acquainted. Starting as a lingerie company dedicated to bralettes and briefs that are both comfortable and stylish, Love Stories quickly became a favorite among fashion lovers. According to the brand's About page, it wasn't long before the label discovered that customers were choosing to wear its lingerie into the water, which led to its journey into designing swimwear. And now, Love Stories is bringing its pretty swimsuits to even more people with H&M.
Available on H&M's website and in select stores around the world, the Love Stories x H&M collaboration is a 29-piece capsule collection that has everything from chic bikinis and cover-ups to beach accessories, jewelry, and more. The collection's pieces, which feature romantic prints in a muted color palette, are also meant to be mixed and matched, which means your range of summer swim looks is virtually endless.
If there's one thing you need from the collection, it's one of its belted swimsuits. Snag the V-neck Swimsuit with Belt, $39.99, for a sleek option to wear as you lounge by the pool. Or, if you're feeling particularly sporty, opt for the $59.99 Long-sleeved Scuba Swimsuit before you go surfing or scuba diving.
For those of you who prefer to wear two-piece options, you can't go wrong with the $29.99 Velour Bandeau Bikini Top or the $17.99 Tie Bikini Bottoms. You can style these items with their matching counterparts, or wear them with each other for a cool, mismatched look. Once you've finished your time soaking up the sun, throw on the Tiered Beach Tunic, $49.99, as you go to your next destination. Be sure to complete your beach look with one of the collection's pretty accessories, such as the $34.99 Bath Sheet with Fringe or $24.99 Patterned Beach Bag.
If H&M's history of sold-out collaborations continues to be a trend, you'll want to add these to your swim collection, stat. Scroll down and see more from the collection below.