KREWE's New Candle Is The Brand's First-Ever Scent — & Of Course It's As Chic As The Sunglasses
COURTESY OF KREWE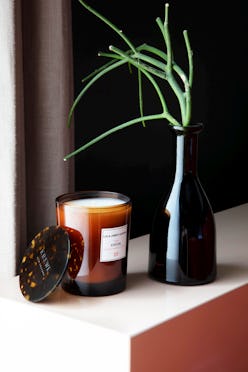 Once just a source of light, the candle has evolved to now hold the power of transporting you to another time and place with its lingering aroma. And, when it comes to the newly launched Lola James Harper x KREWE Candle, you can expect to be traveling to New Orleans (at least in your mind) as soon as match meets wick. The uber-cool eyewear company has teamed up with the Paris-based lifestyle brand to create a scented candle that'll let you bring the spirit and easygoing vibes of The Big Easy into your own home.
Ringing in for $75, the KREWE VIEUX CARRÉ STUDIO candle is KREWE's first-ever scent, and it only seems natural that it would be an ode to the brand's hometown of New Orleans.
"The vision was to create a fragrance that could encapsulate that feeling of stepping out of our Royal Street store and into the vibrant, familiar rhythm of this special neighborhood we are proud to call home," said KREWE founder, Stirling Barrett, in a press release from the brand.
Using the New Orleans' historic French Quarter and the wooden homes, art galleries, and boutiques as inspiration, Barrett partnered with Rami Mekdachi, the founder of Lola James Harper, to develop the scent. The result? A soft, woody fragrance that features warm notes of cedarwood and mahogany blended with spicy hints of cumin and cardamom.
And when it comes to the candle's packaging, fans of KREWE will be happy to see that it's an extension of the brand's stylish frames. The candle is housed in an earthy-hued, amber glass vessel with a hand-cut topper in KREWE's signature Bengal acetate (featured on its best-selling "St. Louis" sunglasses). So, there's no doubt this chic candle will be a welcome addition to your nightstand or coffee table. Plus, its promise to burn for up to 50 hours means you can continue to enjoy its fragrance throughout the summer.
Now available on KREWE.com and in KREWE stores, see and shop the candle below to let yourself feel as if you're wandering through the streets of the French Quarter. And, while you're shopping, you might as well take a look at some of the latest offerings from KREWE, including the brand's new ACTIVE collection that launched in May.