The LOEWE Mackintosh Collection Proves Head-To-Toe Florals Don't Have To Be Dainty
LOEWE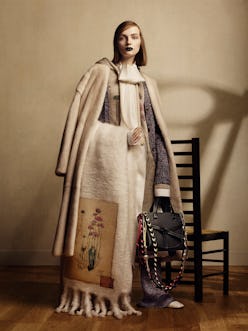 Let's be honest: You don't have to watch The Devil Wears Prada to understand that floral prints for spring aren't exactly…well, groundbreaking. However, put the timeless print in pieces made for the colder months of fall and winter and you have something a little more unexpected. While flowers tend to exemplify every level of whimsy, they often taking a tougher approach for the season, and with the arrival of the LOEWE Mackintosh Collection, you'll be able to create the perfect balance between romance and edge.
Inspired by the work of Scottish architect and designer Charles Rennie Mackintosh, the Spanish luxury designer's seasonal collection takes on florals in a way you haven't seen before, touching on past art movements and the overarching energy of the artist's hometown, Glasgow. Mackintosh became known for the originality of his work during the Art Nouveau movement, creating decorative floral paintings and stained glass. As an homage to the designer, LOEWE launched a full accessories line along with ready-to-wear pieces, all of which evoke design aspects from all of his work, whether it was a water color painting or a furniture piece. And, they come just in time for the holiday season.
In this collection, you'll find classic pieces to wear all through winter and into early spring, making them investments you're sure to have forever. The ready-to-wear collection features beautiful dresses, coats and skirts, which each embody Mackintosh's work. Wear this Belted Coat Botanical, $2,490, along with the matching Wrap Skirt Botanical, $1,640, together for a streamlined winter ensemble for any occasion. Or, if you're looking for something more formal, this vibrant pair of trousers or this Long Sleeve Blouse Roses will be simply breathtaking, and costs $790 and $1,150, respectively. On the other hand, the Hoodie Dress Botanical will be perfect for your everyday moments, too.
Of course, you can't think of LOEWE without thinking about the brand's gorgeous leather accessories, which are inspired by Mackintosh's stained glass work for the collection. LOEWE's signature Puzzle Bag becomes a graphic work of art as the Puzzle Roses Bag, $3,190. The bag is also available in a smaller size, without the rose detail, for $2,490. Not to mention other eye-catching pieces such as the Barcelona Tulip Bag, which costs $3,490.
If the ready-to-wear and handbag collections weren't enough, the Mackintosh collection also has small leather goods such as wallets, coin purses, and charms to add on to your handbag, and accessories which include scarves, earrings, and pins. Whatever way you decide something from the collection, you'll be able to carry a piece of the designer's renowned work with you. Keep scrolling to shop more pieces from the LOEWE Mackintosh Collection below.