The Lip Bar's New Makeup Collection Wants To Save You Money, Effort, & *Lots* Of Time
Courtesy of The Lip Bar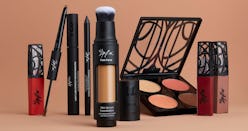 Ask the average beauty fan how long their standard makeup routine takes, and you'll get a variety of answers — though you typically won't hear anything less than 10 minutes. This doesn't account for the pondering stage, either: When you're staring at your makeup collection, wondering which eyeshadow or lipstick you should choose on any given day. And while there is (no pun intended) a time and a place for a drawn-out routine, The Lip Bar's new Fast Face collection is here to show shoppers that it's not the only option they have.
The fan-favorite brand's expansive new collection features everything you need for a full face of makeup — packaged and formulated so you can complete it in just minutes. "I mean, think about it, everything has gotten so incredibly complicated that people are spending hours on the internet trying to learn how to get the look," The Lip Bar's Founder and CEO, Melissa Butler, tells The Zoe Report exclusively via email. "I'm in the industry but I'm not of the industry. And so, I felt like if I was becoming intimidated and overwhelmed by makeup, there had to be millions of other women who were also in a similar space of complete confusion."
To create a completely effortless collection, The Lip Bar focused on the five products that cover all of your standard beauty bases: $28 Fast Face Skin Serum Foundation, $20 Minute Finish 4-in-1 Face Palette, $14 Quick Draw 2-in-1 Brow Gel + Pen, $14 Lash Flash Strengthening Mascara, and the $10 Straight Line Eyeliner. Officially available as of Sept. 30, you can buy each product separately — or as the customizable Fast Face Kit for $89, which also comes with one of The Lip Bar's cult-favorite lipsticks.
Or, in Butler's words: They're products for beauty fans who may not "have the bandwidth" to create tricky, time-consuming looks. "I decided to launch Fast Face as a makeup system to streamline the beauty routine. To make it less complicated, more convenient, and to take the guesswork out of products," she continues. "I used those pain points of the industry and allowed the issues to create the solutions in the forms of the products."
With ease of use in mind, each Fast Face collection product seems to work overtime. The creamy eyeliner includes aloe vera and jojoba oil. The dual-ended brow pen has a pencil and a setting gel wand. The on-the-go foundation is formulated with hydrating hyaluronic acid and damage-healing Irish sea moss extract (and is "basically a click pen," according to Butler. "Where you press, apply, and blend!").
Butler's own personal experience factored into the collection in more ways than one, as well. "One of our biggest advantages was once looked at as a disadvantage. For many years, I've told my customers that I am not a makeup artist. I am not passionate about makeup. But I am passionate about changing the relationship we have with beauty and ultimately ourselves," Butler explains. "Because of that, I have always been an outsider within the industry. I've also always had the same experience of the average woman who doesn't know how to apply lashes; or the women who can't do a wing liner; or women who just don't want to spend a ton of time on their makeup."
She also admits that this can seem contradictory — seeing as she is the founder of The Lip Bar. "But for me, it has always been about how you felt about your beauty experience," Butler continues. "And when I think about how long it takes people to do their makeup, or how much money they're spending on makeup, or the fact that many people are buying products that they're not using because they don't know how. I was like enough!"
To shop all of the collection's individual products (and many, many new shades), visit The Lip Bar's website. Ahead, all six new Fast Face Kits available in The Lip Bar's Fast Face collection.