Catbird Teamed Up With Leith Clark For A Jewelry Collection & It's Every Bit As Stunning As You'd Expect
Courtesy of Leith Clark x Catbird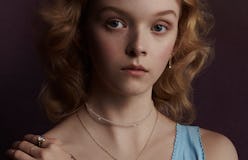 Leith Clark has never shied away from exploring the strength of womanhood. And for the Leith Clark x Catbird collab — which arrived on the brand's website July 24 — the Lula magazine and Violet Book founder combined this stylish sensibility with Catbird's effervescent fine jewelry. "I wanted my first foray into jewelry to encapsulate flora and fauna, femininity, mysticism, the moon and moonstone — with the feeling of long-loved heirlooms," reads a quote from Leith Clark herself in a press email.
Which is a feeling you'll catch instantly scrolling through the collection. Ranging from $154 to $940, the pieces look like new antiques, passed down through generations — with delicate golden ribbons and glistening moonstones taking center stage. "For the collection, we were inspired by heirlooms (of the grandest sort!) in the Victoria and Albert Museum's archives that Leith shared with us," Catbird Co-Creative Director, Leigh Batnick Plessner, tells The Zoe Report via email. "We also focused on the heirloom of suffragette ribbons, and how they have worn over time, softening, but remaining strong."
From there, Catbird transformed the aesthetic influences into wearable pieces of art. "Leith sent us all of her inspiration to work from — photos of antique brooches, buttons from trips to markets and museums, a sprawling list of words, old suffragette posters — and we designed madly, broadly, and then worked to turn those designs into pieces that were Catbird and Leith in spirit, that we could make in our jewelry studio, with materials we vet and believe in," Plessner continues. "Felt like a dream come true."
The release also marks a special occasion: Catbird will be donating $10,000 to Planned Parenthood of New York City in celebration of the collection. "Planned Parenthood is a long time partner of the Catbird Foundation and Leith is on their international board, so our mutual interest in supporting them was already in place," explains Rony Vardi, the founder of Catbird and co-creative director.
Courtesy of Leith Clark x Catbird
Courtesy of Leith Clark x Catbird
"We all came to the table knowing that we would have a charitable partner for our collaboration. As we've been working on this collection for the past two years, the world has changed so much, and at this moment, we feel called to partner with Planned Parenthood," Vardi adds. ("Our Peaceful Girl With Fist charm feels even more poignant now then she did a year ago when we began this process, as does our choice of a charitable partner in Planned Parenthood," Clark noted.)
And for the Catbird team, the collaboration itself was one they'd been longing for. "We're longtime admirers of Leith's work and world — Lula Magazine and Violet Book magazine were such touchpoints and wellsprings of inspiration. She was on our very short list of dream collaborators, as we sought someone who was complementary to our point of view, but who would also come to the table with a rich, sprawling world of her own, that would push us into new territory," Plessner says. "This was a real partnership and team effort."
"Our main motivation when designing and making is pieces that will last a lifetime. We work in materials that suit the pursuit of lifelong wear, and our greatest dream is that one day the daughters (or sons) of our customers will wear the Catbird jewelry that their parents bought," Vardi adds. "Leith is also of a timeless mindset, so we were perfectly suited to work together on something that felt new and old, all at once."