You Can Now Copy Leandra Medine's Personal Style With This New Collab
courtesy of Leandra x Mango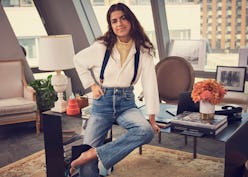 Defining one's personal style in a few words can be tougher than you think. In fact, you might not even realize how difficult it is until you're expected to break down the complexities of your own aesthetic. But when it comes to building an entire capsule around it, the highly-anticipated Leandra Medine x Mango collection seamlessly touches upon every aspect of the mogul's unique style in an impressively cohesive lineup. Soon, you will be able to try out some of Medine's hallmark pieces for yourself, as this new collaboration will be available to purchase on Mango's e-commerce site later this month. However, you may want to consider adding the must-have pieces to your wishlist now for a seamless checkout come Oct. 30, because odds are this collab is going to sell out.
Medine is known for her ability to (successfully) tackle some of fashion's boldest trends, and for this limited capsule, she had translates her eclectic-cool style into a lineup of both ready to wear and accessories — over 30 designs in total. The Man Repeller founder has had a long-standing partnership with Mango, as she's worked with the brand for years on various initiatives on social media. But, this collection takes the relationship to the next level, graduating from the simple styling Mango designs, to presenting novel pieces created with Medine's innate eye for original details — including chain-link embellishments and beaded fringe.
"Imagine a New Year break in a European ski resort, combined with an American university campus in the '60s, and add a couple of embroidered floral prints," the fashion consultant explained of the collection's concept in a press release. Medine mixes both the classic and the quirky, take for example the collection's well-tailored khaki trench, $500, which is updated thanks to an embellishment of round crystal buttons. Similarly, an A-line denim mini skirt, $80, has a certain retro flair without skewing too kitschy.
And as for accessories, the line includes both bold jewelry (ideal for an arm party) and cool footwear. The capsule's black wedge sandals, priced just under $200, are trimmed with chain-link embellishments, making them entirely suitable for polished occasions. However if you're looking to step outside of your comfort zone, the adjustable braces ring in at $30 and are a great pairing for the $100, straight-fit jeans. For those gearing up for the holiday party season, the lineup's sequined shirt is a great place to start. While you can throw the floral-jacquard jacket over any look to instantly give it a festive feel.
If you're looking to give these unique pieces a spin in your own wardrobe, scroll ahead to add the TZR-approved styles to your wishlist, now. Just be sure to head over to mango.com to peruse the collection in full, before it launches.