This New (& Unedited) Collection Features Kurt Cobain's Hand-Drawn Illustrations & Journal Entries
Stephen Sweet/Shutterstock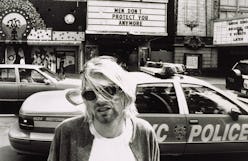 With this Sept. 24 marking the 28th anniversary of Nirvana's breakout album Nevermind, singer and guitarist Kurt Cobain's art still feels striking and fresh — even close to three decades later. This can be said about any one of Nirvana's songs (which, as you're undoubtedly aware, still loop endlessly on the radio) or Cobain's own personal artwork. You see, while you might know Cobain for his music, the luminary of grunge was also a prolific painter and illustrator; and it's these personal pieces that make up the new "Kurt Was Here" collection.
Created by the End Of Music, LLC and Live Nation Merchandise — and curated and designed by Cobain's daughter, Frances Bean Cobain — the "Kurt Was Here" collection's unisex T-shirts and sweatshirts feature hand-drawn sketches and paintings by Cobain, as well as journal entries. Each one is kept in its raw, unedited form; the design team didn't even touch the pieces' line weights.
"The works featured in the apparel collection are kept as authentic to the original pieces as possible, so fans can experience the fluidity and potent subject matter as it was intended," reads a quote from a Live Nation Representative in a press email. "We hope this collection will remind others of Kurt's powerful imagination and unite us in celebrating his talent in a new way."
You can find the pieces on KurtCobainShop.com, or at Barneys New York and Selfridges. Additionally, a portion of the online sale proceeds from KurtCobainShop.com will be donated to the Jed Foundation, an emotional health and suicide prevention non-profit.
"The Jed Foundation was founded by a family that experienced a devastating loss firsthand, and we felt deeply connected to their story," continued the representative. "We appreciate that the founders are still heavily involved, and that the Foundation has been impactful in its mission to protect emotional health and prevent suicide for teens and young adults."
And hopefully, sharing these new pieces lets fans peek inside the genius artist's world just a little bit further. "We believe that the importance of art is exceedingly potent in today's social and political climate," added the representative. "And that it is the right time to share this collection of Kurt's work with artists, collectors and fans, allowing them to experience Kurt's legacy in a new way, and collectively celebrate his lasting impact on the world."
Shop The "Kurt Was Here" Collection Below