Karl Lagerfeld Paris Created A Swimwear Collection That Every Minimalist Will Love
Karl Lagerfeld Paris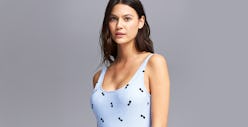 While his designs were at times welcomingly exuberant, Karl Lagerfeld himself was a bit of a minimalist. He may've switched out which shades he wore throughout the decades, but the way Lagerfeld was instantly recognizable just from his outfit alone — sunglasses, white hair, and an incredible suit — will be envied by fashion lovers for decades to come. And if you, like Lagerfeld, prefer something stylishly understated, check out the latest Karl Lagerfeld Paris Swim Collection. The collection was unveiled in January, and deserves to be on your radar now (you know, before any upcoming vacation purchases); the swimwear is covered in a print honoring Karl Lagerfeld's iconic sunglasses.
Given the fact that it's a subtle way to flex your obsession with fashion and the collection is limited edition, you can count on seeing these swimsuits around Instagram this summer. The prices get it additional bonus points, too: The Swim Collection starts at $29 (for these Cona Flip Flops) and tops out with the $148 Clear Swim PVC Backpack. The actual swimwear itself is less than that, too; the Karl Lagerfeld Paris sunglasses print one-piece swimsuit retails for just $118.
On top of that, the one-piece is available in white or "Oxford," a delicate blue Oxford pinstripe you'll spot throughout the collection. The pinstripe pattern pops up again for the aforementioned flip flops, Oxford Bikini set, $59 Zarina Pool Slides, and the Embroidered Button Front Swim Cover Up — a $98 menswear-inspired cover up that could easily be transformed into a street-style dress.
That said, the true minimalist should check out the black-on-black Embroidered Swim Cover Up from Karl Lagerfeld Paris. The breezy tunic features the black sunglasses pattern layered over an equally dark cotton fabric; the shades are only noticeable thanks to the glint from the embroidery. Grab the black colorway for $98, or the slightly brighter white for the same price (if you want those signature sunglasses to be a little more obvious).
Snag your new signature swimsuit from Karl Lagerfeld Paris' website, or keep on scrolling down. A select few pieces from the Swim Collection are ahead.