Johanna Ortiz Created A Capsule For Moda Operandi & It's Proof Puff Sleeves Aren't Going Anywhere
Moda Operandi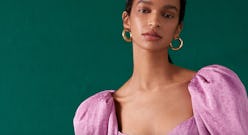 Perhaps you've already begun to notice, but while the '90s have been standing at the front and center of fashion's biggest trends, the '80s have been quietly making their way to the surface. In an era where the minimalist aesthetic is more popular than ever before, the decade of "more is more" — with its over-the-top volumes and statement-making embellishments — is returning for 2019 to offer you some stark contrast. And if you're hoping to add some of these dramatic details to your closet, you're in luck: The Johanna Ortiz x Moda Operandi capsule collection is available now.
If there's any designer who knows how to perfectly execute dramatic romance with endless ruffles, artistic draping, and oversized details, it's Johanna Ortiz. With her eponymous label, the Colombian designer has become known for clothes that not only capture the essence of travel but also for pieces worthy of wearing to any black-tie affair. Now, the designer has created a collection exclusively for Moda Operandi — and after one look at these, there's no doubt that you'll want to add a piece or two into your closet for the next big occasion on your calendar.
The capsule collection includes Ortiz's signature ruffles, but it also highlights the idea of volume with details like big bows and even bigger puff sleeves — proving that the '80s-inspired trend is only getting stronger.
For those of you who love the puff sleeve trend, you can't go wrong with the $2,850 Unique Brightness Metallic Dress. According to the capsule collection's page, Ortiz says this silver dress is one of her must-haves from the collection. If you prefer to wear something that feels more understated, opt for the $1,750 Forgotten Virtues Dress or the $1,995 Midnight Promises Puff Sleeve Dress, which both feel elegant enough to wear for a formal wedding as well as an evening out while on vacation.
If you're looking for another nod to the '80s, go for the Prodigious Silk Floral Dress, which is available for $2,250. The oversized ruffle detail combined with the one-shoulder silhouette feels reminiscent of the iconic trend. Pair this dress with minimalist black strappy sandals and a simple clutch. Or, if you want something that feels more modern, you can always wear the sleek Let's Meet At The Cabaret Belted Silk Gown, which is made with 100 percent silk and costs $1,695.
Scroll down to see more from the Johanna Ortiz x Moda Operandi capsule collection below.