The Intermix Sale Section Looks Like Emily Ratajkowski's Closet — & It's Up To 70 Percent Off
Broadimage/Shutterstock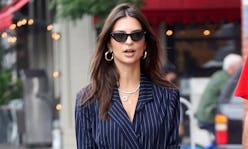 Have you ever searched high and low to find styles that emulate your favorite celebrity's look, only to be met with the heart-wrenching feeling that comes along with a price tag that's out of your reach? It's officially the season for shopping like never before, because loads of high-end stores are offering discounts aplenty. Hurry over to the Intermix holiday sale for pieces that even street-style stars can't pass up on. Spoiler alert: The selection is chock-full of Emily Ratajkowski-approved buys.
Intermix is known for its wide selection of quality items to wear for a multitude of occasions. Whether you're looking to nail down the perfect interview look, find a dress for a night on the town, or even outfit yourself with wardrobe staples, Intermix is the place to go. They've carefully curated a hand-picked collection of seasonal favorites, from established labels to emerging designers.
Because of the high-end nature of the items sold at Intermix, it's unusual to find something for cheap. Here's where the sale of epic proportions comes into play: Not only does their current sale selection include items up to 70 percent off, but full-priced items come with a "spend more, save more" incentive. Save 20 percent when you spend $500, or 25 percent when you spend $1,500. If you've been waiting to add a particularly expensive item to your cart, now is the time.
Emily Ratajkowski is high up on the list of celebrities with enviable style. The fashion model and swimsuit designer has a way of blending together simple pieces when she creates her daily looks. While EmRata keeps up with timely trends and takes risks with her ensembles, there are a few materials and silhouettes that she always finds her way back to. The 27-year-old loves to wear form-fitting midi dresses, oversized sweaters, and boxy blazers. She's walked countless red carpets in various satin slip dresses, and tends to incorporate menswear in the form of cropped tees and baggy athletic pants.
While the average person may not have access to the newest designer releases, or the funds to support an EmRata-inspired wardrobe, the Intermix sale makes channeling your inner celebrity a little bit easier.
Find your own version of model style by throwing on a bodycon midi-dress, pairing a colored blazer with bike shorts, or wearing a silky gown to your next formal function. Ahead, shop The Zoe Report's favorite Intermix items, each inspired by EmRata herself.
Shop The Sale