IKEA & Sonos Teamed Up To Create A Lamp With Speakers & It's Surprisingly Chic
COURTESY OF IKEA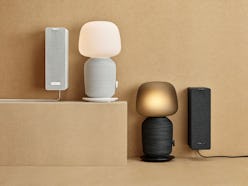 What happens when you bring together the design aesthetic of mega-home retailer IKEA with the cutting-edge sound brand Sonos? Seriously sleek speakers, of course. But, perhaps the less obvious answer would be the IKEA x Sonos SYMFONISK table lamp. Yes, that's right: The two companies have joined forces to create a home essential that'll not only fit within your existing décor, but bring so much more to the room than your current light source with its sound capabilities.
The table lamp with WiFi speaker is part of the SYMFONISK collection and will launch in August 2019. Priced at $179, the stylish piece will allow you to set the mood of your living space with both light and sound while removing the clutter that comes with additional devices and cords.
"IKEA and Sonos recognize the importance of great sound and its potential to positively affect life at home for the many people," said Tad Toulis, Vice President of Design at Sonos, in a press release. "We set out to create products neither of us would or could develop independently. To this end, since music and light are both instrumental in creating a sense of place, we developed a product that can deliver both — the SYMFONISK lamp speaker."
The lamp will come in two neutral colorways and is true to both the IKEA and Sonos aesthetic with its minimal, clean silhouette. The simplicity of its structure, combined with the creativity used to incorporate the sound component, will enable you to seamlessly slide it into the established design of your home.
"We knew from the start that we wanted to challenge the traditional high-tech aesthetics," said Iina Vuorivirta, one of the designers of SYMFONISK lamp-speaker at IKEA, in a press release. "The lamp-speaker partly springs from the idea of the fireplace — one single piece that spreads warm light as well as sound."
In addition to the lamp-speaker, the SYMFONISK collection will also include a versatile book-shelf with WiFi speaker for $99. While you can easily slip the rectangular speaker in among other decorative items, it'll work just as nicely displayed on your wall. Not only is it a sound system, the functional piece can also be installed vertically or horizontally to hold 6.6 pounds – which may eliminate your need for a nightstand altogether.
If Sonos is already a mainstay in your home, you'll also be happy to know that the collection's two pieces are both compatible with the brand's own product range and can be operated through the Sonos app. And since there's not much else you could ask for from a lamp (or a rectangular speaker, for that matter), all that's left to do is wait until the release in August to decide which color will fit best in your home.