This Pretty Trend Is One You'll Love, And Your Grandma Will Approve Of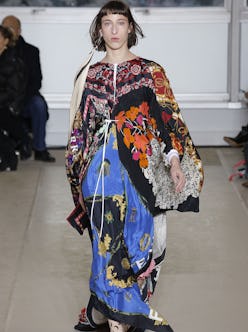 In today's ever-evolving fashion industry, where social media tends to influence our every whim and trends are born seemingly every nanosecond, finding au courant styles with staying power can seem a tough feat. But of late, the scarf-print dress seems to fill that void. For fall 2018, boundary-pushing labels like Richard Quinn, Self-Portrait, Marine Serre, and J.W. Anderson reimagined the classic print, introducing updated motifs, bold colorways, and transfixing silhouettes like floor-sweeping handkerchief dresses, weightless minis, and patchwork scarf-print gowns.
The original scarf print was an equestrian-inspired motif first introduced by the iconic luxury fashion house Hermès in 1937, according to The Wall Street Journal. Since then, silk scarves have come to be printed with everything from logos to abstract florals. And while donning a scarf isn't a new fad — the luxury staple has been a decades-long favorite of Queen Elizabeth, after all — modern designers sought to revitalize the status symbol by transforming a simple square into a full-on outfit. Now, the original print, along with newer motifs, have been reinterpreted for not-quite-so-preppy customers.
"We called in hundreds of scarves in all different sizes and scales, draping and layering it on the model to find new ways to wear it," says Han Chong, the designer of London-based line Self-Portrait. Chong gravitated towards modernizing the classic print because of its versatility, longevity and fuss-free sensibility. This season, Chong took the scarf-print dress in a fresh direction by reinterpreting floral motifs. [This season] we did more of an abstract take on florals that allowed for a more organic feel," says Chong.
With such a wide range of reinterpretations, scarf-printed dresses are suited for both the experimenter and the woman who wants to invest in the timeless mainstay. Below, find four distinctly unique ways to style the scarf-print dress, from a floor-grazing gown bedecked in bold florals paired with avant-garde boots to a regal handkerchief hem dress with an equestrian-inspired motif, let's just say they're nothing to sneeze at.
Scarf Printed Dress + Statement Earrings + Polished Bag
Take on the holidays in style by switching out your tried-and-true LBD for a breathtaking patchwork-scarf dress. If you're heading out with friends for the night or looking to step up your seasonal party attire, try throwing on a strappy pair of heels and multi-colored crystal earrings for an alternative take on evening wear.
Scarf Print Dress + Sporty Sneakers + Statement Bag
Elevate your everyday look by investing in a statement dress like a paisley silk iteration with splashes of hunter and mint green. For a weekend outing or brunch with your friends, try pairing the pretty dress with a pair of crisp white sneakers rather than reaching for your beloved boots. Complete the look with a simple pair of gold hoops, and slip on a polished navy shoulder bag for an added pop against the green hue of the dress.
Floral Scarf Dress + Pearl Earrings + White Accessories
A floral print dress with a handkerchief hemline is one way of conquering the winter blues and turning your mind towards spring. Play up the subtle, feminine print with crisp white accessories like a pair of leather ankle boots, and a fedora. For an added pop, try rotating in a pair of dainty pearl earrings in place of your statement earrings.
Multi-Color Print Dress + Black Boots + Colorful Bag
This season, try reinventing your standard approach to winter style by embracing colorful, vivacious prints like a punchy floral dress. For a maximalist approach, layer a coordinating top in the same bold print underneath, and complete the look with a pair of avant-garde boots and an vibrant red bag.