This Danish Label Partnered With SKAGEN For A Watch Collab & It's Hinting At An Unexpected New Print Trend
Courtesy of Helmstedt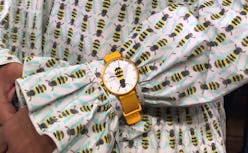 Blame it on the era of smartphones and smartwatches, but the idea of wearing a traditional timepiece has come to feel like one of the past. However, when you begin to think of a watch as a fashion accessory — and a practical one at that — your whole world will open up to a new sartorial category. And if you're just starting to wear watches or are getting back into them, the Helmstedt x SKAGEN collab will give you an even greater look into the styles you can wear — or at least ones outside of the standard aesthetic of leather and metal.
Danish womenswear brand Helmstedt — which is known for bright, maximalist-approved, statement-making prints — has collaborated with the watch and jewelry label SKAGEN to create a collection of five limited-edition watches featuring the imaginative graphics seen in its Spring/Summer 2020 collection. The watches — which will be available for $125 each and launch in spring 2020 — showcase imagery hand-painted by the clothing label's founder, Emilie Helmstedt.
Helmstedt creates all of her prints in her Copenhagen-based atelier, and shared that working with SKAGEN to create these watches felt organic. "Prints truly are the foundation for my collection so it was natural for me to translate them onto the watches," she said in a statement. Combining the designer's playful prints with SKAGEN's penchant for vibrant colors, the collaboration encapsulates quintessential spring elements like fruit, stripes, and, perhaps most unexpectedly, bees.
Helmstedt is undeniably a label to keep on your radar. More likely than not, you already know that Denmark is quickly becoming the country to watch for the next set of emerging designers and major trends (and the street style from Copenhagen Fashion Week only reinforces this sentiment). As you look through the pages of Helmstedt's website, you'll instantly find that this brand is no exception to the rule.
After launching in 2018, Helmstedt has quickly become a label to watch with its cool designs in color schemes and graphics that feel reminiscent of Dr. Seuss' whimsical world. And now, with the brand's latest collaboration with SKAGEN, you can wear Helmstedt's cheerful prints — including its lighthearted bees — every day.
Whether you plan to wear one of these colorful watches with a candy-colored piece from Helmstedt's ready-to-wear collection or opt for a more casual look of high-waisted jeans and a T-shirt, there's no doubt that the Helmstedt x SKAGEN watches will inject a touch of joy into your spring ensembles. And if you're already planning to add one or two of these watches into your accessories collection, be sure to keep an eye out for when they're available next spring.