10 Pieces From The Frankie Shop's Black Friday Sale That I Can't Wait To Get My Hands On
Christian Vierig/Getty Images Entertainment/Getty Images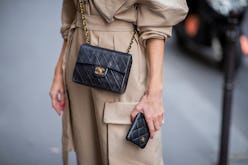 The key to building a well-curated wardrobe is making sure your collection of core items (trousers, outerwear, knits) is on point. And if, like me, you find yourself in need of a number of new basics, then The Frankie Shop's Black Friday sale is the perfect opportunity to secure all those must-have items for much less than usual. Starting Nov. 29, the Paris and New York-based retailer is offering customers up to 40% off nearly everything on site, plus additional surprise savings that have yet to be announced.
If you've spent any time scrolling through street style pictures from New York or Paris Fashion Week for a little outfit inspiration, chances are you're already familiar with The Frankie Shop's sartorial staples. The brand is known for its sleek, neutral tailoring along with its cozy knits, and luxe cargo jumpsuits. And while in the past you may have missed out on a specific blazer due to the brand's cult following beating you to the punch, this time around you won't be so unlucky. In order to ensure the most-coveted styles don't sell out before you add to cart, I've rounded up some of my personal favorites just to get you started.
Look ahead to shop a list of everything that's in my shopping cart right now.