Try This Foolproof Formula For An Effortless Summer Evening Outfit
Gucci Westman and Vanessa Traina // Getty Images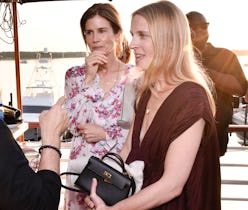 If I could wear a linen toga for the entirety of summer, I would. The idea of fussy, multi-layered looks when the temperatures are hovering in the low 90s makes my skin crawl. But crafting an elegant outfit with minimal components takes skill. Enter this formula for creating effortless summer outfits.
Start by finding a long, breezy silhouette you feel most comfortable in, then simply add metallics. You heard me correctly, and yes, I know it's not holiday season. Surprisingly, a delicate smattering of high-shine metallics actually looks right at home on a summer evening. Achieve this by either layering on a few dainty pieces of jewelry, or, as is my preference, opt for an ensemble that features a dash of metallic embroidery.
Seen on the likes of Vanessa Traina, Arielle Charnas, Erica Pelosini and Rebecca Gayheart at a recent Rachel Zoe Collection dinner in East Hampton, this formula is flexible enough to accommodate personal style preferences like sleeve length, neckline, and level of shimmer, with ease. Their looks prove there is no need for overly flashy accessories, like a statement bag or shoe. All it takes is an ultra simple sandal and a minimalist purse. Keep your hair and makeup fresh, opting for a swipe of highlighter and groomed brows, and the overall result is relaxed-yet-polished.
Here, a few examples to inspire you.
Arielle Charnas
Charnas proves a breezy maxi dress silhouette looks even more dreamy in a sunset-hued palette. Channel her look with a warm-toned style complete with tiered skirt or ruffles, and finish with a smattering of cuffs and bangles.
Rebecca Gayheart
The actress opted for a maxi style in shimmering blush, demonstrating how a bold sleeve — one of summer's biggest trends — can balance a plunging neckline. She completed her look with a dainty necklace, barely-there makeup, and simple sandals. Rachel Zoe also opted for a flowing maxi dress, finishing her look with loose natural waves and a few delicate gold bracelets.
Erica Pelosini
Stand out from the white dress crowd with a metallic embroidered version. Whether you prefer a halter style, like the version worn by Pelosini, an asymmetrical mini dress, or a high-necked maxi, the color combination is ethereal. Air-dried hair and a tonal bag provide the perfect accompaniment.
Vanessa Traina
If metallic embroidery feels too festive for you, channel Traina's more subdued spin on the formula. Try a dress in a gleaming fabric like pleated silk or hammered satin, and add your metallics by way of a locket necklace and a simple bag with gleaming hardware.
Whether you're heading for dinner with friends, to a wedding, or on a date, the simple throw-on-and-go basis of this formula is something you'll reach for time and time again. What's more, it also promises to save valuable suitcase real estate when traveling, allowing you to focus on the uncomplicated joys of summer in style.