The Fall Trend You Should Try First, According To Your Zodiac Sign
Asia Typek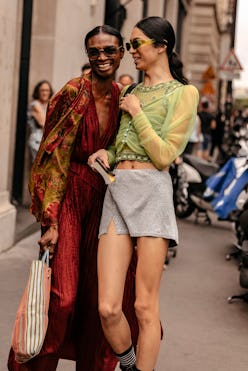 At the beginning of a new season, it's daunting to know which fresh trend to try first. When looking for your starting point, you have a few sartorial resources you turn to; runways, your Instagram feed, or the celebrities that align with your personal aesthetic. But what if there was another source that was even more tailored to you than your Instagram feed? Yes, there are fall 2019 trends specifically for your zodiac sign. Whether you read your weekly horoscope or you're generally an astrology skeptic, gleaning yours is worth a shot.
On fall's trend report, there are the more polished, practical styles like boyish suiting and cool boots, well suited for earth signs. But also edgy, bold looks worthy of the more fiery zodiac signs, searching for the best way to make a statement in the months ahead. Virgos, Leos, and Capricorns alike will all find a little refresher on exactly how to approach the fashion landscape while staying true to your personal style. If you've held off on fall shopping until now, such a streamlined guide is just the thing you need. Scroll on for all the info you need for dressing this fall. Whatever your sign, you're set to shop.
Zodiac Sign: Aries
Trend: Bright Pastels
Why: As a fire sign, an Aries is bold, ambitions, and always looking for the most challenging trend to test. Due to your competitive nature, you don't shy away from being the first to a fresh look, confidently trailblazing for other signs. Colorful and unexpected fall pastels (think pistachio and cornflower blue) seem intimidating to some, but not to a cheerful and determined Aries. Since the coming season brings no shortage of color, embrace your leadership skills and try mixing two or more bright pastels at once before anyone else has the chance.
Zodiac Sign: Taurus
Trend: Victorian Lace-Up Boots
Why: If you're a Taurus, you're all about simple elevated trends that stand the test of time. Rather than switching up your style all the time, you prefer an updated take on mainstay items already in your closet. Victorian lace-up boots are a sophisticated, yet effortless footwear trend for fall that fit right in that ethos. Since you're an earth sign, you want to keep a balance and find a sensible approach to embracing this new look. Luckily, these ladylike lace-up ankle boots can be styled with staple pieces you love. Pair with your favorite breezy maxi dress now, or style with trousers as the season progresses.
Zodiac Sign: Gemini
Trend: Sheer Layering
Why: Geminis never stop moving. Your creative spark is what has propelled you thus far in life, and you live for a multitasking trend that is as effervescent as you are. You likely already embraced sheer pieces this summer, now bring them into fall by creatively layering with your go-to cold-weather items. Whether it's a pastel organza piece over a dark turtleneck or a see-through pant under a dress, this style is no doubt a conversation starter. Talk on, Geminis!
Zodiac Sign: Cancer
Trend: Slip Dress
Why: Cancers, you have perfected the art of cozy-chic dressing. Your looks put forth a polished exterior, but your motives are all about keeping comfortable. This is why the slip dress makes for your ideal secret weapon. Like yourself, a slip dress is simple with an intuitive nature that that allows for either dressier or pared-down counterparts. You're ready to head to the party, but equally ready for when the time comes to quietly sneak out and head home for a little alone time.
Zodiac Sign: Leo
Trend: Statement Leather
Why: Don't fret, Leo. Your season may have just ended, but your time to shine is now. You're daring, and can always deftly handle a little time in the spotlight. This is why bold leather (or faux) is just what you need. Instead of a classic moto jacket, mix things up with colorful trousers, a deconstructed trench, or even a jumpsuit. The aesthetic is every bit as luxe as your style is meant to be.
Zodiac Sign: Virgo
Trend: Snakeskin Accessories
Why: As a Virgo, you already know that you're down to earth and logical. Each trend you buy is methodically purchased, which makes snakeskin accessories a justifiable choice. Snakeskin bags, shoes, and even belts have a fashion-forward element (and added texture,) but provide practicality that Virgos can't ignore. You can buy this trend knowing that you'll want to wear it for seasons to come.
Zodiac Sign: Libra
Trend: All Black
Why: You approach dressing strategically, which is why a sleek, minimalist trend is just what your wardrobe needs for fall. You're artistic and stylish, which may make an all-black ensemble at first seem uncharacteristic, but in many ways, it's an opportunity to play with texture or cut while still achieving your much-loved balance. All black can be a powerful ensemble, but doesn't push you too far from the stability you so desire, dear Libras.
Zodiac Sign: Scorpio
Trend: Micro Bags
Why: Scorpios are innately brave and have a fiery passion that makes you particularly poised to try trends others would balk at. You're not afraid to downsize and sport an ultra-tiny handbag. For an even more boundary-pushing take, consider layering two micro purses together. Not everyone knows how to take on such a flashy trend, but you've got things covered.
Zodiac Sign: Sagittarius
Trend: Square-Toe Footwear
Why: What makes you a true Sagittarius is your endless quest for knowledge and adventure along with an unequivocal sense of independence. This season, let a square-toe ankle boot or mule point you in the right direction. With this simple update to your fall footwear staples, you'll be right on trend without having to opt for anything too over-the-top or flashy. It's a trend that's as "trendy" as you want it to be.
Zodiac Sign: Capricorn
Trend: Boyish Suiting
Why: Capricorns are refined and determined, which makes boyish suiting a smart pairing for your fall closet. Structured, menswear-inspired suiting gives off the sophisticated aesthetic you gravitate toward, without ever feeling too fussy. For an easy take on the trend, opt for an oversized jacket and trousers, or incorporate a long skirt to mix feminine and polished. You'll be ready to take on the world.
Zodiac Sign: Aquarius
Trend: Cow Print
Why: If there's one thing to know about an Aquarius, it's that they tend to gravitate towards imaginative and whimsical trends. Cow print is a departure from the leopard print that has ruled the streets as of late making it an ideal choice. Choose from a cow-print skirt, cropped jacket, or clog. It's all about finding the ways to let your creativity shine.
Zodiac Sign: Pisces
Trend: Relaxed Denim
Why: Pisces tend to look at the connection between fantasy and reality, and relaxed denim fits right in the middle of the two realms — practical with a touch of whimsy. The baggier fit feels like an off-duty style, but in reality, the relaxed silhouette works for the office just as much as it does for a Saturday brunch.