Yep, Cardigans Are Cool Again — Here's How To Style Them
Silvia Olsen/REX/Shutterstock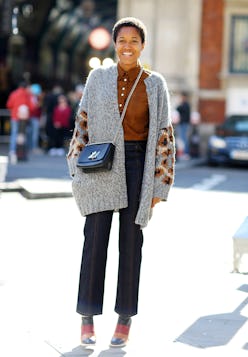 Long before the super-shrunken cardigan was popularized by the reigning starlets of the '90s (think Drew Barrymore, Winona Ryder, and Gwyneth Paltrow) the old-school staple had a slightly more buttoned-up reputation. But, as a top sweater trend for fall 2018, it's once again going through a sartorial rebranding. This season, designers are reimagining the iconic staple with an updated color palette, along with a plethora of modernized design motifs. Cool brands like Kitri and Ply-Knits have each taken a unique approach to reinterpreting the classic cardigan with playful details that include oversized buttons, bright pops of color, and oversized or shrunken fits.
"As a knitwear designer of new-classics, I think about offering something fresh but not trendy every season, "says Carolyn Yim, the knitwear designer behind Ply-Knits. Yim, who produces her line at her family's third-generation factory, has masterfully found a way to meld the heritage of the sweater with modern details like adding a crisp collar to a cropped merino-wool cardigan. Meanwhile, Haeni Kim, the London-based founder of Kitri went another route by incorporating a jolt of color, and a streamlined silhouette that pays homage to the classic '90s cardigan. "Following a few good years of pink ruling every wardrobe, violet feels so fresh this season, and huge buttons feel more modern," says Kim on the modern updates the cardigan received this season.
By now, you should be ready to fully embrace the nostalgic appeal of a cardigan or perhaps you're in the market for something new and cozy for fall. Either way, there are a few simple guidelines to aid you on your quest in search of the perfect sweater. "Good material and a good length," notes Yim. "Good material includes superfine merino, merino-silk, or cashmere-silk blends. These three are comfortable on the skin yet can sustain wear." Once, you've decided whether extra-long or super shrunken is more your style, Yim suggests pairing the updated knit with a pair of high-waisted trousers to play up the cardigan's vintage-inspired elements.
If you're headed to work, Kim suggests wearing the cardigan "tucked into high-waisted straight legged jeans." Adding, "for the night, I also like wearing it with wide-legged trousers and tall heels for a more polished look." You can also trade in your leather jacket for a cropped mohair cardigan instead, or swap a traditional coat for a maxi length cardigan instead.
Now, with a new league of designers and It-girls ushering in the comeback of the classic sweater, it's clear why the cardigan is one of the key pieces of outerwear to don this season. With a seemingly endless array of cardigan styles to choose from—ranging from a retro striped mohair sweater to a cropped cardigan trimmed in faux fur—it's time to swap out your traditional jumper for the latest onslaught of reimagined cardigans. Below, find 20 cardigans worthy of a spot in your closet now.