Nabela Noor On Creating A "Liberating & Empowering" Makeup Collection With e.l.f. Cosmetics
Courtesy of e.l.f. Cosmetics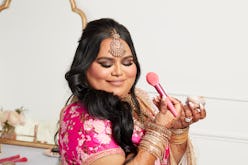 For beauty curator and CEO Nabela Noor, the e.l.f. xo Nabela Noor collection had to be colorful. And no, this didn't mean swapping out e.l.f. Cosmetics' signature black packaging for trendy muted shades that could pass as pastels. "This collection was a celebration of all of my identities as a plus sized, South Asian, Bangladeshi-American Muslim woman. And the way we celebrate in my culture is through vivid, extravagant colors and decorations," Noor told The Zoe Report over email. "I wanted this collection and our launch event to feel like an invitation to celebrate South Asian culture and to learn more about my Bangladeshi traditions."
To do so, the creative team chose pink. A brilliant, neon pink — that covers the brush set and accents the metallic, henna-detailed packaging and components. You may've even already spotted the eye-catching set at your local Ulta; the e.l.f. xo Nabela Noor collab landed in stores and online on Oct. 6, introducing three new products along the way: The $10 Lip Cocktail Kit in "Maira Nude", $8 Gleaming Loose Highlighter in "Neharika Glow", and the aforementioned $20 Beautifully You Brush Set.
Or, you can pick up the entire e.l.f. xo Nabela Noor collection for $35 on e.l.f. Cosmetics' website. Yes, really. "I wanted to use this collection as an opportunity to really showcase how e.l.f brings consumers affordable luxury thus providing access to every eye, lip, and face," Noor notes.
However, such a curated collection took fine tuning — especially when it comes to a product like the Lip Cocktail Kit, which consists of a liquid lipstick and an ever-so-slightly deeper lip liner. "I went through an extensive process with e.l.f in developing this lip cocktail kit! From the shades to the formulas to hosting little focus groups in my small town in Pennsylvania, I poured my heart into the development of this collection," Noor says, adding that e.l.f. visited her home to continue product development.
Courtesy of e.l.f. Cosmetics
Courtesy of e.l.f. Cosmetics
But the most personal part may be the henna, which Noor designed herself. "Henna is a beautiful element of South Asian and Bangladeshi culture. Growing up, my sister had her own henna business and I dabbled in freelance henna work as well for events and celebrations," she says. This also lead to bullying, with Noor explaining that she was "made fun of for my henna and traditional South Asian attire."
"So to be able to own my culture in such a powerful way through this collection has been liberating and empowering," she continues. "We covered the product components, exterior packaging, and campaign imagery with my own henna designs and it was such a special way to pay respect to my culture and our beautiful customs and traditions."
Want to know even more about each product? Ahead, all three new pieces from the e.l.f. xo Nabela Noor collection, and how Noor herself uses them in her own beauty routine.