DVF & Sold Out Teamed Up For A T-Shirt Collab With An Important Message
COURTESY OF DVF x Sold out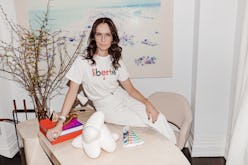 There's nothing like a good t-shirt; it's a bonafide seasonless staple after all. And while you may have every color and style covered, you can always stand to add a few more to your collection — especially if it's one that carries an important message. The DVF x Sold Out collab is here to help you do just that.
Design icon Diane von Furstenberg has joined forces with the female-founded Sold Out NYC to create a collection of six chic tees to align with the May 2019 opening of the Statue of Liberty Museum and Furstenberg's role as "godmother" to the monument. And these tops are not your average t-shirt; in fact, once you learn more about what they stand for, you'll undoubtedly want to scoop up a few.
Ringing in for $98 each, the soft-cotton tees bare four empowering statements. Furstenberg selected "Liberte," "Pioneer," and "Freedom" to honor Lady Liberty as well as to respect and celebrate the accomplishments of women. As for the fourth message? It reads "1974" and in the product description Furstenberg explains the significance as, "The year I debuted the wrap dress, making my American Dream come true."
DVF may be a name you're already very familiar with, but if Sold Out NYC isn't yet on your radar, it should be. Described on its website as a "brand created by women, for women, and about women," it's known for serving up stylish tees and sweatshirts that carry messages meant to start conversations and empower women. And this time, the brand brought this message to its latest collaboration with DVF.
"Diane is not only a fashion maven, but an icon of female self determination, self creation, and self reliance. She is a true crusader of women's rights and someone who has never doubted the limits of her own power," said Sold Out NYC founder Kiane Von Mueffling in a press release from the brand. "We are infinitely proud to design these tees, with statements that embody some of her most valued beliefs for women everywhere."
These tees come in a range of easy-to-wear colors and incorporate cheery hues in the text, and you'll have no problem tucking them into a pair of denim or blousing them over skirts for spring. So on that note, continue on to shop one for yourself and consider picking up another for a strong female in your life who you want to celebrate — Mother's Day is right around the corner (hint, hint).