Dior's First Micro-Lotion Has Arrived — Here's Why You Should Add It To Your Routine
Dior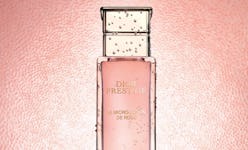 While there are a lot of things to look forward to in the summer — trips to the beach, dining al fresco, wearing breezy dresses — it also, like every season, has its less desirable qualities. For many, summer also means the arrival of heat and humidity. And while not everyone is phased by the shift in weather (some may even embrace it after the long winter), this combo can do a number on your skin. Fortunately, the newly launched Dior Prestige La Micro-Lotion De Rose is here to keep your skin looking purified, hydrated, and shine free.
In May, Dior unveiled two luxe skincare products, with this lotion being one of them. The first Dior Prestige micro-nutritive lotion, La Micro-Lotion de Rose is an exciting addition to the brand's beauty lineup ahead of summer. And given that it helps with rebalancing your complexion when it comes up against sticky hot, humid conditions, you'll want to snag a bottle of the $150 lotion now instead of later.
This product is a result of Dior looking to address the issues combination and oily skin by rebalancing your complexion through the purifying power of rose minerals — zinc, copper, and magnesium — and adding the rose oil (which helps to strengthen the skin barrier, according to a press release from the brand). The result of this joining of forces? Clarified, hydrated, and happy skin.
To break the results down even further, the lightweight lotion promises to not only make pores appear tighter, but leave your skin shine free, too. Basically, it's a worthy-contender for a spot on your beauty shelf and may be the key to perfecting your summer skincare routine.
As for the application process? In order to fully reap the benefits of the mattifying effect, use a cotton pad to add the lotion to your skin. For an added dose of freshness, the brand suggests storing the lotion in the refrigerator to chill prior to use. And if you want to give your skin even more comfort, use it as a pre-lotion to the $150 La Lotion Essence de Rose.
Continue on to see and shop one of the freshest new additions to the Dior beauty family.