Dion Lee Just Added Activewear To Its Arsenal With This New Collab
Carbon38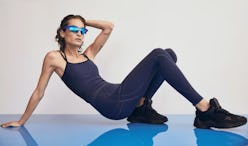 If you think about it, it wasn't that long ago when people were keeping their workout clothes in a separate category from everyday fashion. But thanks to the rise and increasing popularity of athleisure, people are no longer debating whether or not leggings can be worn as pants. Instead, the activewear staple — along with other classic pieces — has become a regular part of today's biggest trends. With that in mind, workout clothes are no longer reserved for the gym or studio. Because of this, activewear has become more stylish than ever — and with the Dion Lee x Carbon38 collection, it's only getting better.
Let's be honest: When it comes to high performing workout clothes that are also stylish enough to wear outside of the gym, creating pieces that strike the perfect balance is often considered a major feat (if not a miracle). However, with Dion Lee's latest launch — which has pieces chic enough to wear for nearly any occasion — the brand has done exactly that, creating a special gem of a collection in the athleisure world.
Teaming up with Los Angeles-based brand Carbon38, the Australian fashion label — which is known for its sculptural and modern aesthetic — has created its first-ever activewear collection, bringing an undeniably cool and high fashion approach to the category. The Dion Lee x Carbon38 collection, which ranges from $118 to $358, includes a variety of classic workout staples like leggings and sports bras, as well as ready-to-wear items like sweaters, jackets, and dresses with the brand's distinct netting.
If there was any doubt that activewear could only be worn for activities like working out or running errands, Dion Lee's collection with Carbon38 sets the record straight. With structured pieces like the $148 Welded Corset Tank along with styles featuring knife-cut perforation such as the $158 Perf Mini Skirt, this capsule collection feels decidedly fresh and modern. In others, this is not your average athletic attire.
When in doubt, start with the basics. Swap out your standard black leggings for the $178 Perf Legging to give your everyday workouts a new edge. Wear it with the matching X-Ray Bra $138. And if you're heading to an early-morning studio session and need to throw on an extra layer, you won't regret wearing the Infinity Cashmere Sweater, $358. Of course, fall temperatures will only get colder. So if you need something that can face the cold, opt for the Asymmetrical Wool Biker Jacket, which also costs $358.
Scroll down to see more pieces from the Dion Lee x Carbon38 collection below, then head over to Carbon38's website to add it all into your activewear collection.