Design Within Reach's Semiannual Sale Is Here & These Are The Deals You Shouldn't Miss
Design Within Reach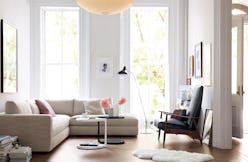 There are six words that can make any design lover's heart begin to race: Design Within Reach's Semiannual Sale. Already swooning? Here's even better news: The sale has already begun. It kicked off March 7, discounting thousands of pieces from the designer furniture and home store by 15 percent. And, because that wasn't enough, Design Within Reach also threw in free shipping on select collections and all orders over $5,000. Which sounds like a lot — but trust that it's easy to get to that number quick shopping all the famous pieces.
Your first instinct may be to grab whichever iconic mid-century modern piece has been on your wish list. While the Eames Lounge Chair isn't on sale, you still have plenty of choices — and great ones, at that. Getting 15 percent off a new Milo Baughman Recliner 74 would make any vintage lover's day; regularly retailing at $3,595 for the black leather colorway, the beloved chair still carries the same vibe now as it did when the Recliner was first dreamt up for Thayer Coggin in 1966. It's hard to choose which is better, though: That you can get the recliner for $3,055.75, or the very fact that it is a recliner (and probably one of the sleekest of its kind ever crafted).
OK, you may not have seen the sale coming, and don't have an extra $3,000 sitting around for your dream chair. While Design Within Reach does stock museum-worthy pieces, it also carries affordable designer home decor that'll add a pop of interest to your home without wreaking havoc on your monthly budget. For under $200, you could get this metallic Tom Dixon biscuit tin or a 20-piece setting of matte black Almoco Flatware.
There are furniture options on sale for under $200, too. The traditional-style Woody Armchair is marked down to $120 from $150, and versatile for so many different reasons. For one, you have your pick between five very different colorways; there are warm neutrals, a cool black, and one bright red shade. On top of that, the chair isn't just a classic wood chair, though its design may have tricked you into thinking as much; it's actually made out of fiberglass-injected polypropylene, which makes it durable enough for indoor and outdoor use.
You have until March 21 to take advantage of Design Within Reach's Semiannual Sale. Below, nine can't-be-missed deals to help get the decorating inspiration flowing.