COS' Huge Winter Sale Has All The Perfect Basic Sweaters You Could Ever Want
COS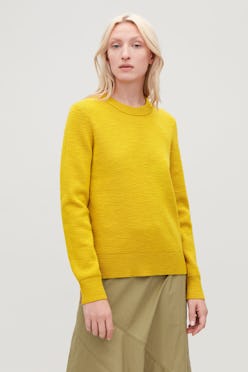 Now that your holiday shopping may be coming (hopefully) to an end, you can utilize this week for a little self-gifting. And what can make buying a present for yourself that much better? When that purchase is on major markdown, of course. So, if you find yourself with a little free time between festive gatherings this week, you should head over to the COS winter sale to pick out a few pieces for yourself.
Known for its modern, minimal wardrobe essentials, COS's sale is chock-full of everything from knits and dresses to outerwear, all on deep discount. While a sale of this size can be overwhelming, the retailer has broken down the sale items on its site by category, making it really easy to shop for exactly what you're looking for.
At this point in the season, you may have cycled through your sweaters quite a bit already. If you're looking to scoop up a few new styles, click over to the knitwear section ASAP. No winter uniform is complete without a cozy cardi or pullover, and COS's sale selection is wide and wallet-friendly. There are several silhouettes that even ring in under $50, including a black A-line striped textured sweater as well as a navy cotton pullover; both are staples you'll turn to time and time again for the next couple of months.
It's easy to slip into an all neutral color palette come mid-winter, so add this vibrant orange merino sweater to you closet now for $45 (originally $89). The crew-neck sweater will give all your browns, grays, and ivories a lift; plus, being that it's lightweight you won't have any problem layering it under your jackets or over a thin turtleneck.
For just five more dollars you can also pick up the Speckled Oversized Cardigan, as well as several other can't-miss pieces that hit right at the $50 mark in the sale, making them easy buys for the season. This black lambswool style is now marked down from $99 to $50, and when paired up with this $75 silk-paneled midi dress, you'll have an effortless look that can take you from work-to-weekend.
Continue on to start shopping 11 of the top styles that you can save big on before the end of the year. When the real winter temperatures hit, you'll definitely be happy you stocked up on these cold-weather essentials.