Every Warm-Weather Staple You Need From The COS Sale (Including The Perfect Black Swimsuit)
COS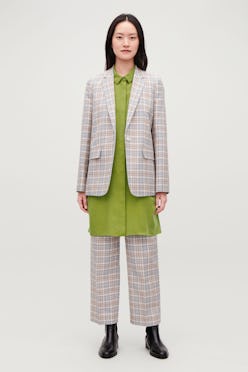 Your spring purchases have likely left your shopping budget looking a little thin at this point, which can put you in a tricky spot when you start hanging your new buys only to notice you're lacking some wear-with-anything styles for your warm-weather wardrobe. Not to worry, though — the COS Mid-Season Sale is here and it's serving up major savings on everything from easy to mix-and-match separates and dresses to understated swimwear for those beach getaways you're starting to plan.
The COS sale is one not to miss, as the retailer is offering up to 50 percent off on select clothing and accessories. While a sale of this size does provide the opportunity to snag cold-weather items like coats and heavy knits on discount for next season, let's be real: Your focus is on the sunny days ahead. That said, the real finds are the transitional styles and spring-ready pieces you can scoop up for less.
So, where should you focus your attention? Start by peeking at the strong offering of effortless dresses that you can seamlessly pop over trousers and denim now, but wear solo as soon as it's warm enough to bare your legs. In the mix, you'll find silhouettes in some of this season's favorite colors, like this slime-green structured shirt-dress, now $63, or this a-line style in a vibrant orange, reduced to $58 from $115.
But, if you just realized you're lacking swimwear, make that category your next stop. With several clean, modern styles up for the taking at astonishingly low prices, you can stock up on suits to get you through the whole summer. On the hunt for a one-piece? Try out this perfect black swimsuit for $35, or this square-neck yellow style while it's marked down to just $35 as well. However, if you're looking to pick up a new bikini shape, set your sights on this asymmetrical pink top and match it up with the high-waisted bottom. Though sold separately, the pair together will only set you back $57 during the sale.
The aforementioned pieces are just the beginning when it comes to these mega markdowns. Continue on to shop 12 styles you'll want to snatch up before everyone else and head over to the site to view even more.
Shop The COS Mid-Season Sale