This New Cole Haan Collab Is What Happens When Innovation Meets High Fashion
COURTESY OF COLE HAAN X RODARTE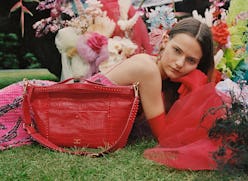 Let's be real: Finding a shoe that not only looks good but is comfortable enough to stand in, walk in, or dance in for hours at a time isn't always easy. But, lucky for you, the newly launched Cole Haan X Rodarte Collection may have just what you need to step into the new season on the right — well-supported and fashion-forward — foot. On top of that, the collection brings several standout bags that are just as worthy of your attention.
Unveiled on Sept. 9, the limited-edition capsule brings together Cole Haan's innovative technology and construction with Rodarte's distinct design aesthetic — proving that high-style and comfort don't have to be mutually exclusive. For the first drop of styles Laura and Kate Mulleavy, the sisters behind Rodarte, put their own unique spin on Cole Haan's Grand Ambition silhouettes, which unsurprisingly resulted in a swoon-worthy lineup of pumps, booties, and slip-on sneakers as well as circle bags and satchels.
"We wanted to collaborate with Cole Haan because they are such an innovative company that really values the same things we do in terms of design and pushing the boundaries of what is expected in the landscape of fashion," noted Laura Mulleavy, Co-Founding Designer of Rodarte, in a press release from Cole Haan. "We were really impressed by the level of innovation that Cole Haan infuses into their product in order to deliver unparalleled comfort."
Known for their dreamy designs and artful use of textiles, the Mulleavy sister's knack for mixing textures and fabrics is highlighted in this capsule. Offered in hues of bold red and bubblegum pink in addition to bright white and black, the shoe styles within the collection feature embossed-croc leather, neoprene, and lace as well as stud detailing.
However, the fact that these luxe designs are combined with Cole Haan's supportive silhouettes are what makes these pieces truly special. All of the footwear features the cushioned GRANDFØAM footbed and a lightweight EVA foam outsole, which will provide you with a comfortable fit for your on-the-go lifestyle. And, considering there are four different shoe shapes in the capsule — ranging from a $190 slip-on sneaker to a $240 block-heel bootie — you shouldn't have a problem finding a style that suits your needs.
In addition to shoes, the capsule contains two versatile bag shapes that'll turn heads this season. Take your pick from either the cross-body circle bag for $258 or the larger soft satchel bag for $358; both styles are offered in four different shades in embossed crocodile leather with tonal studs.
Continue on to see and shop the limited-edition collection below. And, be sure to make a note on your calendar to check back on the site in November when additional styles will be up for grabs.