This New Birkenstock Style Is Right In Line With Summer's Biggest Sandal Trend
Shutterstock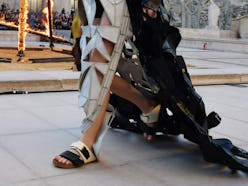 Whether you're on board or not, "ugly" sandals are a major trend this season. You may have once associated them with the likes of camping or the great outdoors, but a number of designers are putting their own twists on the trend. Now, these hiking-style shoes have become the focus of every fashion lover's attention. And if you're the type of person who wants to embrace the trend with a touch of athleisure, then the latest drop in the Birkenstock x Rick Owens collab is just for you.
In case you haven't heard, the hiking aesthetic is coming in full force for spring, and Rick Owens is only further cementing the trend by teaming up with Birkenstock (the company behind the OG chunky sandal). Together, they created a new take on the shoe brand's popular Arizona sandal — yes, that iconic two-strap style you're probably familiar with.
The Rotterdam sandal, which comes in a brown and coral colorway, features Birkenstock's signature footbed and cork sole. However, with the plastic clip-in buckle and Velcro leather straps, this particular style feels decidedly sporty. To top it all off, there's a Birkenstock patch on the front strap with a honeycomb texture, channeling the idea of a pool slide.
Along with the chic sandal, Rick Owens and Birkenstock also released two new versions of the Hancock Rotterhiker boot — one in the same colorway as the sandal and another in black. Classic in its silhouette, the suede boot has similar strap details to its open-toed counterpart. However, the semi-opaque lug soles provide a more futuristic approach, which makes this shoe worthy of a street-style shot.
This isn't the first time Rick Owens has reimagined the chunky sandal with Birkenstock. The designer released the first collaboration with the brand for Spring/Summer 2018, which debuted the Arizona sandal covered in fur as well as an all-black leather clog.
You might be seeing high-fashion Birkenstock shoes more often, as the company continues to partner with luxury fashion labels — Valentino recently presented its collaboration with Birkenstock earlier this year at Men's Fall 2019 Paris Fashion Week. With more styles coming out on the runways, the shoe brand is making a strong case to prove that the chunky sandal might be staying around longer than you think.
If you're already sold and want to give yourself a high-fashion version of the trend, scroll down to shop the latest styles from the Birkenstock x Rick Owens collaboration.