How To Find The Perfect Blazer, According To 4 Fashion Experts
Christian Vierig/Getty Images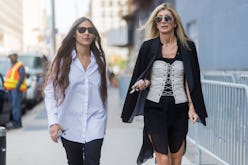 In most regards, Instagram has all but solved the whole "where-did-you-get-that-amazing-thing, perfect stranger?" dilemma. Just one tiny tag can lead you to the page of a brand you've never heard of from halfway around the world. And still, there are still wardrobe staples that warrant expert opinion before purchase. Finding the best women's blazers — ones that go equally well with jeans or suit pants — is one such area that requires more than just a double tap.
Blazers are a staple that can be entirely transformative, and yet finding the right boxiness in the silhouette or slouch in the shoulders is tricky. Blazers count as a basic, sure, but the wrong material can bunch or wrinkle, and buttons can gape or stretch if not fitted correctly. Just because a sharp blazer works in a professionally-shot Instagram photo, doesn't mean it will translate IRL. Which is where a bit of shopping advice from industry insiders who constantly sport perfect-fitting blazers (styles that strike the right balance slouch, ease, and refinement) come in.
One tip to keep in mind no matter where you opt to buy your outerwear: tailoring can make a world of difference, so you'll find it's a common theme with many of the women below. Read on for their tips and personal anecdotes on shopping the timeless, albeit surprisingly tricky, blazer.
Sarah Rutson, Creative Consultant
"I am the queen of the jacket," says Sarah Rutson, a former executive for The Collected Group and Net-a-Porter. She calls herself a "tailoring girl," adding that she owns a variety of fabrications, but sticks to a classic palette of black, navy, gray, and military green.
"The cut of the shoulder and lapel is critical," she emphasizes, adding that she prefers pieces made from luxe fabrics that hold up over time like fine Italian yarn. "For jackets I tend to stick with designer brands: Saint Laurent from the '70s through to present day, Haider Ackermann, Helmut Lang (only from the '90s!), and a mixture of Givenchy, Celine, and McQueen."
When it comes to shopping for a new option, Rutson says, "I tend to be classic, not any gimmicks." And in case she's itching for something different, "I only go to Commes des Garçons and Sacai."
Lauren Chan, Model, Founder And CEO, Henning
"I've been everything from a size 12 to a size 20, so finding great blazers has been a challenge for me, especially at the higher end of that size spectrum," says Lauren Chan, a model and former editor who is on the verge of launching a size-12-and-up workwear line, Henning.
"In my opinion, a great blazer has a structured silhouette, wide-enough shoulders, full-length sleeves, and most importantly, high-quality material. No cheap, BO-inducing polyester!" While her dream blazers will soon be revealed with her debut line, she's found success thus far by shopping outside fo the box and getting pieces customized to her body. "In the past, my secret was to thrift men's designer blazers and have them tailored through the arms and back to fit me. My favorite is a navy plaid one by Armani that I found at Beacon's Closet in Williamsburg a few years ago, which I wear with everything from jeans to slip dresses."
Lyndsey Butler, Founder, Veda
Like Chan, Veda founder Lyndsey Butler says vintage is her favorite resource for finding the best blazers. "I got a Dries Van Noten men's grey wool blazer with floral embroidery on the lapel years ago at a vintage store in NYC. It's pretty oversized so I can wear it more like a coat in the winter," she recalls. "I recently got a YSL double breasted heavy wool blazer from Thanx God I'm VIP in Paris that I love and wore all fall and winter."
If a trip to a local vintage shop, complete with time spent rifling through racks, and fitting room try-ons isn't your thing (that's what free shipping, free returns is for, no?), there are certain silhouettes to keep an eye out for that recreate some of the best aspects of these retro styles.
"I love an oversized blazer with a strong shoulder, usually in a heavier weight fabric. I also love a good tailored tuxedo jacket," explains Butler. "I prefer menswear inspired fits and details, nothing too overly feminine like a puff sleeve or ruffle. The more masculine look means it looks great paired back with softer pieces like a slip dress or a silk camisole."
Kelly Augustine, Influencer, Founder, August Raye
"Blazers have been a wardrobe staple of mine for years," says Kelly Augustine, an influencer, marketer, and founder of August Raye. "I used to rely heavily on thrifted blazers in college and post-grad, now I shop mostly at Lane Bryant and Eloquii for blazers. I also love Simply Be's options every once in a while."
For Augustine, the ideal silhouette is one that offers versatility in what she can style it with. "I like longer line, structured blazers so I can wear with shorts and maxi skirts. I also like blazers that come in at the waist," she says, adding, "Every now and then I go for a color, but I usually spring for a blazer that is black or white with an interesting detail so it can be worn with anything!"