The Summer Wedding Guest Dresses That'll Make You Want To RSVP ASAP
Nataliya Petrova/NurPhoto via Getty Images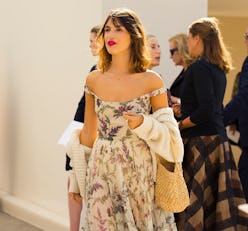 Weddings seem to come in waves. Some years, it's quiet and you have one, maybe two nuptials to attend. Other years, the tidal wave hits and you've somehow RSVP'ed to 13 weddings and now need to find something unique to wear to each. It might feel time consuming, overwhelming, and unnecessarily expensive — but it can be fun. If you approach the shopping situation methodically, investing in a summer wedding guest dress can be an enjoyable affair.
Since it's likely to be warm throughout your slough of events, you can opt for breathable fabrics and breezy silhouettes that translate to non-wedding scenarios rather seamlessly — say, your vacation to Portugal next month. The goal is to find styles that will survive the entire summer, not be ready to retire one wedding in.
So, who better to tap for purchasing advice than a few fashion insiders also in the midst of wedding guest season. This group is an amalgamation of editors, stylists, buyers, and PR experts who all are experienced in knowing cool, under-the-radar brands that are ideal for sourcing a wedding guest dress.
Ahead, hear from these women on where to shop for wedding guest dresses that also happen to be the best styles for summer. Whether you're partial to wrap silhouettes, fruit prints, or all puff sleeves — there's something for every aesthetic.
Slow Fashion
Despite having been to four weddings, two bridal showers, and a bachelorette this year, marketing and creative consultant Breanna Warner has still found a way to prioritize ethical consumption and slow fashion. "The great thing about weddings is you receive the save the date far in advance so you have time to plan and wait for a dress that's made to order. I'm all for the slow fashion movement," she tells TZR. "I am loving everything from LA brand Dakota Jinx. The beautiful silk pieces are all handmade in Los Angeles and come in an array of ethereal rainbow colors that you can pick and choose." She suggests the Raquel Bias Cut Slip Dress in lilac or mint worn with strappy shoes for a fun summer wedding or the Tolie Jolie Dress "for an outdoor garden moment."
Fruit Print
Worried about dress codes? "Times are changing and so are wedding guest attire requirements," says Gabriela Pelletier, Assistant Buyer and Brand Partnerships Coordinator at Lisa Says Gah. "If you are attending a destination wedding with a bride or groom who are a little more eccentric, then the Toni Midi Dress in Fruit print [below] is for you." While fruit prints in general have been cropping up in all sorts of fun fabrications, as can be seen above, she highlights the style's square neck, smocking, and puffy sleeves as all being particularly on trend right now. Describing it as "a comfortably relaxed yet chic fit with stunning details. You are sure to leave the wedding with a new friend or phone number when wearing [it]."
Wrap Silhouette
Above, influencer Kellie Brown proves that a wrap dress is the multipurpose staple that can easily be dressed up or down. "I love wrap dresses for weddings because they can be styled in a multitude of ways," Explains Cory Sargeant, Founder of Sargeant PR. Silk iterations are great for evening, while linen works for a daytime event. "My favorite is Whimsy + Row's Lola Wrap dress in blush because the color is dreamy and the fabric is luxe," she adds.
Minty Green
For a pared-down alternative to the wild slime green trend, Pelletier suggests a dress in a soft green hue. "The color is appropriate for most weddings, along with being wearable for a summer vacation once the wedding is over," she says. Look for a silky, slip style or a cropped wrap dress for an outdoor celebration.
Something Extra
"Being Colombian, I've had it engrained in me from an early age that it's okay to be a little bit 'extra' when it comes to fashion — in fact, it's highly encouraged," says Monica Mendal, an Editor and Brand Consultant. For upcoming weddings, she says "Pull out all the stops. Anytime I have a wedding to attend, the first brand I look to is Silvia Tcherassi. Her dresses are the perfect balance of femininity, elegance, and that little bit of drama that'll make you the talk of the party... after the bride, of course."
Puff Sleeves
Sleeve silhouettes have erred on the voluminous side this year, from simple and refined (like the sweet sleeves above), to ultra-puffy. The trend's prevalence is what makes Sea's Monet Dress Dana Hollar Schwartz's go-to pick for summer. "The puff sleeves feel very festive to me and the midi length is perfect — long but not too long and easy to dance in!" The Hours's Co-Founder and Chairman of the Board suggests styling it with "strappy leather flats for an outdoor ceremony and a chunky heel for a rooftop party."
Flowy Florals
More often than not, all you need for a successful summer wedding guest look is a breezy dress cut in a floral print, like the look above on Babba Rivera. "I love this Dôen dress [below] for an upstate, country wedding. It's a great price point, and you can wear it in everyday life after the wedding," Stylist Rebecca Dennett suggests to TZR. "If you have kids, you can also match your dress to theirs, which is very on trend à la Marine Serre and Collina Strada." Another brand she suggests checking out for your next wedding guest dress if you like this type of dreamy aesthetic is LoveShackFancy.
Elegant and Effortless
Take a cue from Maria Bernad's look above and opt for a simple, elegant maxi dress in a single hue if you're looking to make a subtle statement. "I love this dress [below] because it's absolutely effortless. The color is soft yet eye-catching in a calming way, but not too bold to where the attention is taken off the bride," Pelletier explains. "The silhouette is elegant yet season-less to wear and pair for a wedding of any kind! The beach, forest, city hall ... you name it."
Long Silhouettes
"Longer silhouettes are generally preferred at weddings, and I love the ease of this Christopher Esber design [below]," Lesse Founder Neada Deters notes. "It's elegant but effortless and the asymmetry of the cutouts are the perfect talking point. Bonus points for the stretch knit fabric which makes this an easy, no-iron look for destination weddings!"