The Spring Hero That'll Help You Get Ready For Work In 5 Minutes Flat
Cheyenne Adler On Instagram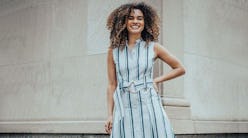 Whether you work in a corporate or creative environment, cobbling together an outfit in the morning usually leaves you running late. Which is why it's usually more streamlined to slip into a dress for the day rather than messing with multiple pieces, pulling and tugging in front of the mirror and wasting precious commute minutes. Depending on what region you live in, during winter's frigid months this dress-over-separates approach tends to prove more difficult because well, leaving your legs exposed is to be avoided at all costs. However, now that spring is here and in full bloom, nailing the newest and best spring dresses for work is about to make your life that much easier.
Classic corporation-friendly options tend towards sheath or cap-sleeve silhouettes, and while there's nothing wrong with those tried-and-true choices, it's time for a little refresh. While the styles below still hit the must-haves for work (appropriate hemlines, non-wrinkly materials) they are still trendy, featuring everything from subtle pleat detailing all the way to a splashy spring plaid patterns. No doubt these new styles will give you a boost of confidence for the work week ahead. Worth noting: if your office skews on the more conservative side, all of the pieces ahead could pair easily with a structured blazer on top for that added touch of coverage.
Pleats, Please
Subtle details like puff shoulders, unique necklines, and ruffles or pleating can transform a piece of clothing. For spring, grab a dress with the latter for a trend that reliably translates to the board room.
Breezy Shirtdress
The shirtdress silhouette is another office classic, but for spring look for a more breathable texture and lighter color palette to give it a refresh. Finish with a pair of clogs or woven pumps to further cement its breezy appeal.
Belted Sleeveless
A sleeveless, belted dress has a slightly utilitarian aesthetic about it that makes the overall silhouette feel more polished and professional. Grab yours in a playful print or a solid color like army green and finish with your leather work tote and loafers or low heels.
Wrap Dress
This silhouette is ideal for accentuating your figure while still feeling comfortable to go about your day. Opt for short or long sleeves depending on the weather and a length that hits around the knees or shins.
Polished Plaid
It's springtime and your work outfit should reflect this cheerful time of year. Since you can't exactly wear a white eyelet day dress to the office, a splashy gingham or seasonal plaid print will happily suffice.
Floral Midi
You'll never feel underdressed in a pretty spring midi dress; it's timeless and instantly makes you look more friendly and approachable. Plus, it transitions well to after-work happy hour.
Spring Knit
Sweater dresses aren't exclusively a fall or winter affair. If you find a version that's lightweight and in a breezy color, it's the perfect way to transition your wardrobe while still staying warm. Polish it off with a structured work bag and wooden heels.