The Best Smarthome Deals For Prime Day Today, Including Up To 56% Off Echos, Fire Tablets, & More
Amazon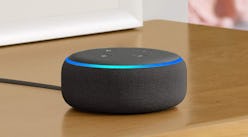 Let's face it: Amazon's smarthome accessories are changing the game. And you're in luck if you haven't embraced the e-commerce platform's tech yet, because the best Prime Day smarthome deals make it way more affordable to do so. As in, you'll be able to save more than 50 percent on Amazon's Echo Dot. The deals this year are that good.
Which is the first place you should start, by the way. Amazon's Echo Dot is a good entry point if you've never dabbled in high-tech home accessories before; the smart speaker can play music, call your friends, and read you your morning news as you eat breakfast. It also lets you voice control any smarthome accessories you add to your space — like lightbulbs and thermostats. And, in the spirit of Prime Day, Amazon's Echo Dot is marked down from $49.99 to just $22 for all Prime members.
Already the proud owner of your very own Amazon smart speaker? Then go ahead and turn your sights on the Fire TV Stick 4K. Regularly $49.99, the media player is on sale for $24.99 (aka 50 percent off) for Prime Day. Of course, Amazon doesn't stop there, either. Continue ahead to read more about the other Prime Day deals on Amazon smarthome products you can find on the brand's website.