The Best Prime Day Headphone Deals Today Are Up To 55% Off — & Are Going To Sell Out Fast
Amazon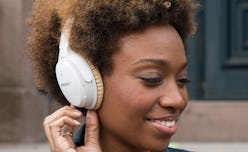 Of all the sales that happen during this time of year, nothing feels quite as epic as Amazon Prime Day. The mass online retailer is already known for having virtually anything you can imagine. And thanks to its annual summer flash sale, these things are all up for grabs at major discounts. Sure, you can certainly use this time to stock up some wardrobe necessities or new accessories for your kitchen. However, there are lots of cool tech gadgets available in the sale — and some of the best Prime Day headphone deals are simply waiting to become a part of your collection.
More likely than not, the tech accessory you use the most is probably a pair of headphones. Whether it's to listen to music on your morning commute or watch a movie on your laptop, headphones are something that anyone can appreciate. Of course, with as much use as they get — not to mention how much wear they can go through moving from bag to bag — they'll eventually need to be replaced. Luckily, Amazon has you (and your ears) covered.
Before you find yourself clicking through pages of headphones searching for the perfect pair, there are a few styles (and deals) that you won't be able to pass up — some are even up to 55 percent off. From larger headphones that fit around the ear to wireless Bluetooth options, Amazon's Prime Day selection is chock full of headphones to suit your everyday needs. Scroll down to see the best of the bunch below.