This $28 Bralette's Perfect For Summer & Already Selling Out
Courtesy of Richer Poorer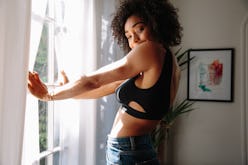 Move over, boiler suits and tie-dye T-shirts — finding the best new bras for summer should be at the top of your to-do list. And there are a lot to choose from this year; from established lingerie staples like Soma and Agent Provocateur to the emerging indie brands (think ThirdLove and Richer Poorer), you have options. Which is especially important when it comes to summer dressing: You'll want to be able to wear any off-the-shoulder, backless, or plunging styles that catch your eye — and your bra collection needs to be able to adapt.
Obviously, there may only be one lingerie piece on your summer shopping list: a strapless bra. And, honestly, you may be dreading even shopping for one — let alone wearing it. Anyone who's ever worn a strapless bra (yes, even the really nice, really expensive ones) can list all the issues shoppers have with the garment. Rather than pretend like the design's problems don't exist, Soma took them into account when designing the Vanishing Strapless Bra.
Unveiled April 3, the $62 bra claims to have perfected the strapless bra; Soma's take promises no tugging or pinching, and credits a narrow front and wider back for its smoothing effect. Another plus: It's available in subtle shades that'll disappear under any white shirts or linen dresses.
Looking for something lightweight and comfortable for all the upcoming summer weekends? On April 19, Richer Poorer launched the $28 Scoop Bralette; and while there aren't many reviews for the newly-released design (yet), the more size-inclusive bralette is on track to achieving cult fame. Not only was it applauded by fans on Richer Poorer's Instagram — the black Scoop Bralette in the XL size has already sold out.
You'll see why fans flipped when you check out the bralette, too. To start, Richer Poorer notes it offers more support than its original bralette styles; a huge plus for customers with fuller busts. But you aren't trading off support for style: Details like a V-shaped back and side cut-outs make the Scoop Bralette chic (and just a little bit sexy, too).
Your upcoming summer outfits may require something completely different, though. If so, continue reading; nine recently-released — and completely different — bras are ahead.