This Pretty 10-Piece GreenPan Cookware Set Is Majorly On Sale At Crate & Barrel
CRATE & BARREL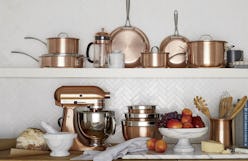 Leave it to the holiday season to make you feel frustrated by your current cookware situation or, for some, lack thereof. For those who previously didn't want to invest in a new set, but came off Thanksgiving feeling let down by old pots and pans, now is the time to take advantage of the best cookware deals. But where can you find them? Right now you would be remiss to not take part in the major sale happening on Crate & Barrel. Until Dec. 5, plug in the code COOKWARE at checkout and score up to 60 percent off full cookware sets.
You most likely fall into two camps when it comes to cookware: The first being those who have the minimal basics and haven't wanted to splurge for a full set just yet, and the second being shoppers who do have a full set, but can't deny that it's seen better days. No matter where you sit on the cookware spectrum, a sale on top brands, including All-Clad and GreenPan, will have you ready to start filling your cabinets with a fresh arsenal of cooking gear.
Not sure where to start? First check out the GreenPan™ Padova Ceramic Nonstick 10-Piece Cookware Set. Shop this chic white family of pots and pans for under $200 while it's on sale for $199.99 (originally $249.99). The non-toxic comprehensive set is free of PFOA as well as PTFE, and includes everything from frying pans and a skillet to a stockpot and saucepans. All of the pieces in the set are coated with Thermolon Minerals for not only healthy cooking, but easy clean up.
If you're really looking to do a major overhaul of your cookware, take a look at this 14-piece set from All-Clad. Once $1,149.99, you can save $230 on this polished set by punching in the code to make it $919.99. The brand is known for its professional-grade cookware, and this All-Clad set is an easy way to get your kitchen in tip-top shape before the new year. For under $1000, you'll get two frying pans, two sauce pans with lids, and two sauté pans with lids; plus, one covered chef's pan, a stockpot with a lid, and a bonus roaster set are all included.
Of course, if you don't need a larger set or have no room to store it, opt for the five-piece set from All-Clad. Get all your basics covered with a top of the line fry pan, a covered sauce pan, and a covered sauté pan for $279.99 during the sale.
Grown tired of the classic cookware colors? Switch it up with the Calphalon Tri-Ply Copper 10-Piece Cookware Set, marked down from $479.99 to $383.99 for a limited time. To add even more festive flare to your kitchen bring in the Lagostina Martellata Hammered Copper 10-Piece Cookware Set. This luxe set will elevate any kitchen while adding the shine and shimmer of the holidays to your cooking space. Regularly $499.99, you can knock the price down by $100 when you use the code to make it $399.99 during the sale.
Finding the right set to suit not only your cooking needs, but your kitchen aesthetic can not only be tricky, but expensive. Make use of Crate & Barrel's sale on a range of cookware brands and styles while you have the chance.