This Genius Colander That Keeps Selling Out Is Finally Back In Stock (& It's Going To Go Fast)
FOOD52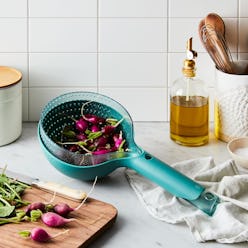 Whether you're an aspiring chef or just trying to cook more often than you place a Seamless order, there are a few things that one needs in a kitchen, and a colander is definitely one of them. But when you think of your current colander, frustrating thoughts of being splashed or losing part of your meal along the way probably come to mind, which is why it's so exciting that the best colander of 2018 is back in stock on Food52.
The Modern Compact Colander — which previously sold out in three days — can now be yours again. What makes it so special? For starters, it has a cute design and it's only $29. It's also designed to do away with the vegetable-washing problems your old colander gave you and make this annoying kitchen task as splash-free as possible. Perfect for all your berries, green, and small veggies, the colander is dishwasher safe and is easily stored. When it's not it use, it can be swiveled around to fold up nicely for small space storage.
To use it, begin just as you would with any other colander: by filling the basket with produce. However, this is where it takes a less messy turn. Swivel the bottom to enclose the produce, and instead of spraying water over the entirety of the basket, the water from the faucet goes directly into the handle. Once you're done rinsing, the fun begins and you can shake to your heart's content without worrying about the mess.
The colander was obviously made with form and function in mind, which its maker, Danish design brand RIG-TIG (which means "just right" in Danish) is all about. Its award-winning kitchenware designs take a creative approach to kitchenware while also maintaining an affordable price point and low environmental impact. And clearly the brand is onto something, because Food52 can't keep this colander in stock.
Another smart product from the Danish brand is the 4-in-1 Box Grater ($50), which includes slicer, julienne, fine julienne, and zester boards that store away vertically to not take up space on your counter. The Parmesan Storage Mill is also a genius product from RIG-TIG thanks to its easy-to-use design that makes it ridiculously simple to grate cheese over anything you desire.
Based on its history, this is not an item to wait on — so shop this must-have colander and other well-designed products from the brand below.