All The Best Swimsuits Under $50 To Shop While The Summer Sales Are In Full Swing
Madewell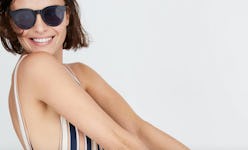 Whether you've been waiting for the right moment to gear up on stylish summer staples, or you've just been keeping an eye on a specific piece, your time to start shopping has finally come. Perhaps you've already noticed, but summer sales are happening everywhere. And just in time for the warm weather season to officially start, a ton of these stores have the best cheap swimsuits for under $50. With prices this low, you'll want to start adding these to your summer wardrobe, stat.
At this point, you've probably already started curating your summer swimwear collection, filling it with classic styles you'll be wearing for years. However, if you've been looking to try out a particular trend or just broaden your range, there couldn't be a better time than now.
As most savvy shoppers know, finding a good deal on a chic item can be a major part of the fun. And when stylish brands like Mango, J.Crew, Zara, and others are marking down on-trend styles and timeless silhouettes left and right, it's nearly impossible not to swipe your credit card. Nonetheless, if you feel the need to prepare yourself a bit before browsing your favorite websites, there are some styles worth keeping on your radar.
For those of you who want to add a chic, minimalist swimsuit to your collection, Zara's $12.99 Buttoned Swimsuit feels both polished and casual. There are also more colorful, statement-making options like the $28 Colour Wave Halter Swimsuit from & Other Stories or this pretty lavender triangle top and matching high-waisted bottoms, both $14.99, from Urban Outfitters.
Take this opportunity to start building your collection of animal-print swimwear — that is, if you haven't already — with these high-leg leopard-print bikini bottoms from ASOS for $13.50. (Pair them with this black bikini top, $17, for some contrast.) Or, in case you want to wear a one-piece version of the trend, the Eco Underwired Swimsuit from Wolf & Whistle is available for $34.
If you're ready to start shopping for your next stylish (and affordable) swimsuit, scroll down to see more under-$50 options.