Bebe Just Launched Its Fall 2019 Campaign & There's An Important Message Behind It
bebe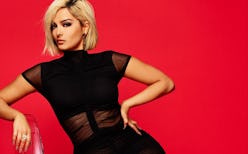 You don't have to know anything about the brand bebe — or the artist, Bebe Rexha — to realize that the "BEBE LOVES BEBE" campaign is a match made in advertising heaven. However, for the diehard followers of both the musician and the cult-favorite fashion brand, the Fall 2019 campaign may seem obvious. "It's incredible to be part of this bebe campaign," reads a statement from Rexha. "It's not only about me loving the brand, but more importantly, about me loving myself! I hope to inspire and empower women all over the world with this message of self-love, I believe it is super important."
And, according to the CEO of Bluestar Alliance and bebe Brand Manager, Joey Gabbay, choosing to work with Rexha went past the name synchronicity. "The bebe brand has a passionate consumer following, one that loves the brand and all it has to offer. Similarly, Bebe Rexha has passionate fans around the world that love her, her music, and what she stands for," Gabbay added in a "BEBE LOVES BEBE" campaign press release. "Beyond sharing a name, this was a natural partnership as Bebe is a longtime fan of the brand herself."
The same press release also notes that the "BEBE LOVES BEBE" campaign's message of self-love was inspired by Rexha's iconic Jan. 21 Instagram post, which called out fashion designers who refused to dress women outside a limited size range. ("These curvy thighs are gonna be on billboards everywhere in September," Rexha wrote on Instagram following the "BEBE LOVES BEBE" reveal.)
As you may've guessed, the artist had a connection to the brand prior to the collaboration as well. "I grew up wearing bebe, it was the coolest piece of fashion you could have," Rexha continued. "So to be able to mix fashion and my music is so fun."
Fortunately for fans, bebe's Fall 2019 collection is currently shoppable in-store and online, too — so you won't have to wait to shop the Rexha-approved looks. Make sure you pick up a copy of Vogue's September issue or visit bebe's social media sites to browse more from the Fall 2019 campaign.