West Elm Just Released A Collab With This Insta-Worthy (& Sustainable) Weighted Blanket Brand
Courtesy of Bearaby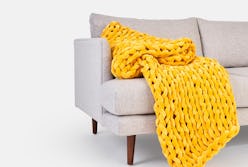 Although you may've not yet heard of Bearaby, any home decor enthusiast who's ever spent hours scrolling mid-century modern couches on Pinterest knows West Elm well. (And let's face it, we've all been there.) The fan-favorite furniture and decor retailer is a major source of inspiration, late-night purchases, and now — thanks to the Bearaby x West Elm collaboration — relaxation. And no, not talking about the dopamine rush you get from finally ordering that bedroom set you've had your eye on.
Officially debuted online Oct. 30, the collection is the combined effort of West Elm and the direct-to-consumer weighted blanket brand Bearaby, which launched at the end of 2018. Steering clear from plastic fillers, the brand weaves fabrics densely together to create hefty, chunky knits that just so happen to be incredibly stylish. These bulky blankets naturally weigh anywhere from 15 to 25 pounds — which triggers your body's serotonin and melatonin production when you cuddle up beneath one. This means less stress, anxiety, and insomnia.
And now you can score a blanket just by dropping by West Elm's website. Two Bearaby styles are available on the brand's online store: the TENCEL Weighted Blanket and the Velvet Weighted Blanket. Both start out at $249 for a 15-pound size, and go up in price depending on the weight (the most expensive being the 25-pound blanket clocking in at $279).
This collaboration also brings one gigantic change to Bearaby's DNA. Previously sold exclusively direct to consumer, the two blankets will now be stocked in five West Elm stores, located in Chelsea, Santa Monica, Lincoln Park, Miami, and Austin.
"We are so excited to partner with West Elm on their first weighted blanket collection. We share a brand mission that puts sustainability and design at the forefront so we feel they are the perfect first brick-and-mortar retailer for us," Kathrin Hamm, founder of Bearaby, tells The Zoe Report in an email. "We look forward to furthering our mission to share the power of weighted blankets on a national level with West Elm."
As you could've guessed, the collaboration's colorways are very chic. The velvet blanket is available in five West Elm-esque shades; think blush pink, soft gray, and a retro mustard yellow. The TENCEL blanket is more subdued: Choose from a series of whisper-soft neutrals called "Stone White", "Frost Gray," and "Glass Blue." All of them feature Bearaby's signature oversized knit, and will look incredibly cozy thrown over your couch (mid-century modern or not).
Ahead, both Bearaby blankets now available on West Elm's website.