Here's When You'll Be Able To Shop All The Chic New Bags From Balmain's Latest Collab
Courtesy of Balmain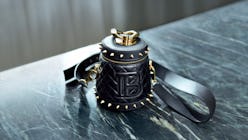 There is no denying the profound effect Olivier Rousteing has had on the DNA of Balmain, and on the fashion industry itself. However, one could argue that the creative director's friend and muse — model and actress Cara Delevingne — has been just as much of a disruptor. Together, the pair has collaborated on and off the runway; recently Delevingne starred as the face of Balmain's Spring/Summer 2019 campaign. But, starting May 28, the Balmain x Cara Delevingne bag collab will allow shoppers a chance to add the duo's magnetic energy to their closets — via three brand-new Balmain purses designed by the house and Delevingne.
The first to arrive is Balmain's BBag, a boxy purse that spotlights the house's recently-adopted logo. It's destined to be a hit amongst Balmain fans looking for their effortless, everyday purse; the $1,750 Balmain x Cara Quilted Leather BBag seems to play on popular details (such as the quilted leather Chanel is often known for — which British Vogue reports that Chanel introduced to its purses in 1955 — and that Balmain also cites as one of its signatures), while interjecting Balmain's own touches. (The Zoe Report reached out to Balmain to inquire when it first introduced quilted leather handbags and has not received a reply as of publication.)
The BBag will be joined later in July by the Twist bag and the Romeo purse, both of which incorporate more daring silhouettes. With these two, fans may clock elements of Balmain's Spring 2019 couture show, which illuminated Rousteing's personal eye for quilting, bold hardware, and 3D shapes. There's a definite bite to the $2,950 Balmain x Cara Romeo Quilted Lambskin Bag, as well. Carrying the spike-lined purse will be completely empowering at most — and, at the very least, add a dangerously chic edge to your outfit.
The new launch's gorgeously moody interactive campaign video features Delevingne front and center, something that was only natural for the brand. "Of course, the videos had to focus on Cara," reads a quote by Olivier Rousteing in a press email. "And, it's not just because she collaborated on the design of the bags. Cara is the star because it's clear to everyone that she is the embodiment of the Balmain rebelle — the self-assured troublemaker with an invigorating, new type of rebellious spirit."
Rousteing went on to further explain this muse. "Cara reflects the strong and confident attitude of the women of my generation, women who are not content to simply push back — instead, they revel in pushing forward, (while making sure to push every single button along the way)," he added. "This is Cara's first design collaboration with the house and her second Balmain campaign this year — and I am certain that we have many more adventures ahead of us!"
Shop the new Balmain x Cara bag collection starting May 28 on Balmain.com.