You Can (Finally) Shop THE ARRIVALS' Highly-Coveted Outerwear In Person & The Timing Couldn't Be Better
THE ARRIVALS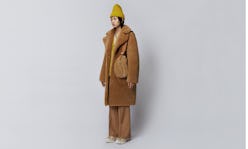 It may not feel like it just yet, but the fall weather — in all its chilling glory — has officially arrived, and it's most likely here to stay. As tempting as it may be to sit inside and curl up with a cup of coffee and a good book (or you know, Netflix), there's something to be said about going outside and enjoying the weather — even if it means bundling up in warm (and chic) layers. Luckily, THE ARRIVALS' OutThere Lab is showing you how to do exactly that.
Just as the autumn leaves are beginning to fall, THE ARRIVALS' OutThere Lab pop-up shop is returning to showcase its holiday lineup. This is the fourth time that the direct-to-consumer brand — which usually sells its collections online — will be giving its customers an immersive, in-person shopping experience to test-drive each piece. This season, the New York-based brand's OutThere Lab is inspired by the idea that industrialization and technology have led individuals to spend more and more time indoors, and THE ARRIVALS aims to change that.
The OutThere Lab is located on 26 Mercer Street in New York City's popular Soho neighborhood, created in partnership with the soon-to-launch experiential shop Early Spring. According to the brand's co-founder and creative director, this pop-up is a "reimagination of a community resource center in the near future." The OutThere Lab is made to be an institution that provides information to blur the lines between its visitors and the elements of the outdoors, ultimately encouraging shoppers to get outside.
The pop-up shop feels almost futuristic, with textured structures displayed with the latest pieces from THE ARRIVALS' Oasis collection. Inside the store, you'll experience sensory environments of "weather-specific elements," like warm sunlight, chilling snow, rain and more paired with corresponding products like the cult-favorite Moya coat along with in-store exclusives. Products in the OutThere pop-up store will range from $225 to $1295 for outerwear while layering pieces will be available for $45 to $95. The OutThere Lab will also carry knitwear accessories and eyewear, which range from $18 to $195.
THE ARRIVALS' OutThere Lab will be open from Oct. 5 through Feb. 2020. So, just in case you don't have the chance to get to the store right away, you have the entire holiday season to shop. Kick off the holiday shopping season early — whether it's for your loved ones or yourself. Or, simply get ahead of the inevitable winter weather and stock up on stylish pieces you know you'll wear for years.
If you're in New York during the time the OutThere Lab is open, be sure to stop by — you definitely won't regret it. Not in the city? Scroll ahead to shop pieces from the collection, ASAP.