The Arhaus Clearance Sale Is Full Of Vintage-Inspired Furniture Up To 60 Percent Off
Arhaus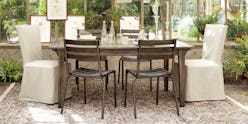 No matter where you live or how long you've lived there, one of the best parts of having a home is finding the right pieces to create the perfect atmosphere for you and your loved ones. That said, such a task is often easier said than done — after all, curating different parts of your home can take more time than you might imagine, especially when you're investing in furniture and other items that you'll have for years. Luckily for you, the Arhaus clearance sale has an abundance of home goods for every type of home, no matter what aesthetic you prefer.
From vintage-inspired cabinets and tables to minimalist or contemporary chairs and sofas, Arhaus has a treasure trove of items to fill your entire home for up to 60 percent off. Whether you're looking for a chic new armchair with a statement-making print to act as an accent piece in your living room, simple throw pillows to add to your bed spread, or stylish accessories to give your home an added touch of character, the online furniture retailer is sure to have it.
For those who prefer a minimalist approach to decorating their homes, this Caftan Coffee Table features a sleek and classic style and is on sale for $579 from its original $2,199. If your space requires something a little different while still remaining minimal, the Sophia Coffee Table is another great option and is available for $599. Complement your new coffee table with a chic serving tray, like this Arnhem Ikat Indigo Tray, which is now $199 and will work wonders when you're entertaining guests.
You can also add a pop of color to your home with a new armchair, like this Powell Chair in Vidal Meadow or this floral-printed Briton Chair, available for $999 and $799, respectively. Cozy up in your new chair with this $149 Chunky Braided Throw to reach peak comfort mode for the remainder of the season.
Need a new set of drawers for your bedroom? This Rondure Six Drawer Dresser will make your space feel more stylish than ever before. With its classic design and warm hue, this dresser is easily worth the investment of $2,799. You can complement it with this Aran Extra Large Cylinder, $59, which you can use for your plants or simply for décor.
Now, scroll down to see more of the beautiful pieces Arhaus has waiting for you to shop.