Whistles' Animal Print Puffer Jacket Is The Statement Coat You Didn't Know You Needed
Whistles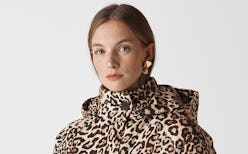 Having a signature jacket is the most important fashion move you can make this winter. No matter how impeccable an outfit might be, if it's too cold to take off your coat, you better make sure your outerwear is just as much of a look. If you're looking for stylish winter jackets, take a page from British fashion girls and make a Whistles coat your everyday statement piece — because is there anything better for winter 2018 than an animal print puffer jacket?
Not familiar with Whistles yet? You're about to see the brand everywhere, thanks to its new store in New York's fashionable SoHo neighborhood. Founded in 1976 by the legendary Lucille Lewin, Whistles was re-launched in 2008 and has since become a leading contemporary British fashion brand. After all, Whistles is one of Kate Middleton's favorite clothing stores, and you can probably guess how fast it sells out of everything the Duchess wears.
But you don't need to be the Duchess of Cambridge or a New York It-girl to get your hands on Whistles' incredible jackets. The Whistles website stocks the brand's flawless wool coats, sheepskins, faux furs, and yes, the leopard print puffer jacket you'll want to live in the rest of winter. The longline puffer retails for $339 — a stellar price for 99.5 centimeters of a warm, trendy jacket worthy of a royal.
There are certainly dream pieces to push to the top of your holiday wishlist, too. In swoon-worthy shades of purple and pink, the Colourblock Toscana Coat retails for $2,399. The purposefully loose fit and playful pastels balance out the lamb fur's luxurious aesthetic. Style it over a flowing floral dress that features one of the pastel hues like Whistles did, or toss it on over jeans and a sweater for an enviable rocker vibe.
If the Toscana is too short to help you survive the winter, embrace the teddy trend with the $2,700 Teddy Sheepskin Coat. The monochromatic warm hue will go with everything, but honestly, you probably won't want to take the statement jacket off. While most jackets demand to be paired with tall heels when dressing up, this teddy coat is already feminine enough to get away with kitten heels or even combat boots.
There's not a wrong choice to make when browsing these coats. Whistles nails every jacket trend, classic or contemporary, like it's easy. Retailing at $659, the Agnes Pocket Leather Jacket is the definition of everything a biker jacket should be, tailored to a modern silhouette by slimming the arms. Whistles' take on the parka is one of its bestsellers, and at $379 for the Faux Fur Lined Waxy Parka, it's no mystery why the jacket has fans.
It's about to be a very Whistles winter across the pond, and the brand couldn't be more ready to help American It-girls bundle up. "Since entering the US market in 2014, we have built a loyal, ever growing customer following who love our distinctive designs and effortless approach to dressing," said Helen Williamson, Brand Director, in a press release. "It's fantastic we can now offer our full collections in the US for the first time!"
Below, eight Whistles statement jackets you'll reach for every time you go out.