Your Summer Workouts Are About To Get A Lot More Stylish Thanks To adidas' Newest Collab
MISSONI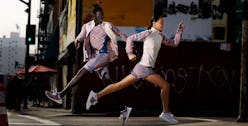 Rising temperatures may be giving you that boost of energy to get outside for a run or head to the gym after work instead of hibernating at home. That said, upping your fitness game means you're likely taking a hard look at your current inventory of workout gear, and you may find it's in dire need of a major refresh. No need to scour the stores though — as luck would have it, the newly launched adidas x Missoni collab has pieces that'll not only rejuvenate your current collection of activewear, but have you looking ultra stylish while you get your sweat on.
The athletic brand giant and the iconic fashion house have come together to create a limited-edition collection of running footwear and apparel that'll leave you inspired to make moves. And while you may know Missoni for its eye-catching designs, what you're probably not aware of is the fact that Missoni co-founder, Ottavio Missoni, was an Olympic hurdler — making this joining of forces that much more appropriate.
"Our founders built our brands on such similar values – innovation, creativity, high-quality craftmanship – to bring their inspirational stories together was an amazing experience," said Craig Vanderoef, Senior Director, Product at adidas Running, in a press release. "Working together was a natural fit, taking each of our crafts to the next level to seamlessly merge style and performance together."
This blending of style and performance can be seen throughout the entire collection; however, arguably the strongest representation of the marriage of the two is the $280 adidas x Missoni Ultraboost. Available in three colors, the sneaker brings together adidas' well-known silhouette with Missoni's trademark Space-dying technique. The result? A functional running shoe that's been amped up with Missoni's recognizable "flame" pattern.
In addition to sneakers, the collaboration delivers clothing styles in two colorways: a summer-ready, multi-hued pattern and a more subdued black and white combo. Select from tees that'll keep you cool and dry as you train, and jackets that feature a water-repellent finish for unexpected sprinkles. Finish off your look with a pair of running shorts with built-in briefs and a high-back waist that'll provide comfort and security for miles.
Continue on to start shopping this new collab, or head over to missoni.com to see the offerings. Additionally, you can shop the collaboration at adidas.com/running starting April 25 at 10 am ET.