The $95 Everlane Sweater That Will Make Getting Dressed In The Morning So Easy
Everlane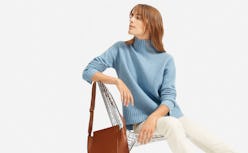 Okay, so you already know that anything Everlane makes is going to be good. The direct-to-consumer fashion brand — much like Outdoor Voices, Warby Parker, or even the luggage brand Away — has built a cult following that proves whatever the brand is doing next, its fans are sure to follow. Of course, while Everlane may be working to master the next major basic for your closet, you can't ignore the fact that it already has a virtually endless supply of wardrobe staples to wear now. And with the fall season is in full swing, this is the perfect time to stock up on Everlane's best sweaters.
There are still a few weeks left before daylight savings time hits in November. However, as the sun rises a little later each morning, it gets increasingly tough to get out of bed and onto the day that waits ahead. And for the moments when you simply can't decide what to wear, getting dressed is the last thing you want to do. That said, putting together an ensemble — even one that's last minute — is always significantly easier when you have a full arsenal of chic and timeless wardrobe basics. And thankfully, Everlane has become the go-to destination for exactly that.
If you're planning on building up your knitwear collection before the temperatures really drop, Everlane has a full range of options to choose from. But just in case you aren't sure where to start, opt for one of the brand's cashmere styles. Go for the $100 Cashmere Shrunken Sweater, which is a classic style that you'll have in your wardrobe for years. Another great option to wear with everything is the Cashmere Square Turtleneck, which costs $165.
Everlane has also taken a sustainable approach to some of its pieces, like the $155 ReCashmere Stroopwafel Turtleneck. These sweaters are made recycled yarn to create a smaller impact on the environment. Want a unique and sustainable option for your wardrobe? The ReCashmere Button Mockneck, $98, is a chic take on the classic Henley sweater.
For those who can't get enough of the cardigan trend, Everlane's Cropped Alpaca Cardigan, which is available for $100, will be the perfect piece to layer on and cozy up in all season long. And if you're looking for something to wear from now until spring, the $98 Texture Cotton Crop Cardigan is made with 73 percent cotton, which means it'll let you breathe during warmer days.
Ready to update your knitwear collection? Scroll down to shop the best Everlane sweaters below.