7 Antioxidant-Rich Moisturizers For Your Strongest Skin Ever
The Zoe Report/Amazon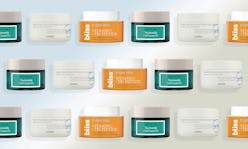 What deep breathing or a glass of red wine (your pick) does for your mental stress, the best antioxidant moisturizers can do for the stress you're wearing on your face. While antioxidants are plentiful in the skin care world, some of the most common, and most potent, are vitamin A (or retinol, which is a derivative of vitamin A), vitamin C, vitamin E, vitamin B3 (also known as niacinamide), green tea extract, coenzyme Q10, and resveratrol (which, you may be happy to learn, is derived from red wine). Plant extracts often contain stores of antioxidants, as well.
All these variants are special in their own, unique ways — for instance, vitamin C is known for its brightening properties, and green tea for its soothing effects. But most of these antioxidants work to neutralize free radicals, which are unstable molecules that contribute to oxidative stress when piled up unchecked — and, in turn, that can lead to phenomena like collagen depletion, hyperpigmentation, inflammation, and, at worst, skin cancer.
These powerhouse molecules find their way into lots of skin care products, but the seven best antioxidant moisturizers featured here contain them in relatively high concentrations for more efficacy. Scroll on to shop them now.
We only recommend products we love and that we think you will, too. We may receive a portion of sales from products purchased from this article, which was written by our Commerce team.