The Unexpected Item That Rachel Zoe Relies On For Stress-Free Travel
Melodie Jeng / Getty Images.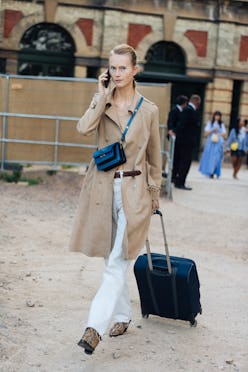 Whether you're hitching a plane train or automobile this season, chances are it's going to be a dumpster fire. Everyone is on the move, and inclement weather is sure to derail even the best laid plans. Thankfully there are a few holiday travel essentials that promise to help you maintain your sanity on the road. After all, you're supposed to be the picture of holiday cheer, despite having spent the past five hours with a toddler kicking your seat and your luggage inexplicably absconding to Hawaii even though it knew full well your destination was Cincinatti.
Considering she's always the picture of polished glamour and that she has had more than enough experience living on the road, The Zoe report tapped stylist Rachel Zoe for her jet-setting tips on how to keep it together. And no, this isn't a handbook for packing light, or making sure each item can be worn 17 different ways. Instead, it's about prioritizing a little "you" time, after all this is your vacation too, even if you're staying on your aunt's pull-out couch. "The key is to always carry a few luxurious pieces that make you feel more at home," explains Zoe. If there's a way to inject glamour into the ardor of holiday travel, this is it. Ahead, the stylist's go-to tricks for stress-free travel.
A Lightweight Robe
Yes, there are towels wherever you're going, but doing your makeup and hair while trying to keep one cinched around your torso is less than ideal. Pack a lightweight style that will make you feel a little more put together. This silky version from Maison du Soir is ideal for throwing over your pajamas when scuttling downstairs for coffee, and brightens up a classic all-black ensemble should you want to channel your inner bohemian for an evening. "Wear it open over a black jumpsuit with heels and it's effortlessly chic," says Zoe.
A Rich Face Cream
You could dedicate 80 percent of your carry-on real estate to your skincare regimen, or you could save some space for shoes. "Multi-tasking products like this richly hydrating face cream with collagen-boosting Moringa extract are genius particularly when traveling," says Zoe. Keep it handy to slather on your face and hands while flying, too.
A Wear-With-Everything Necklace
Now is not the time to flex your jewelry layering prowess, as anyone who has spent hours untangling chains from a travel case knows. "I'm a fan of taking only the jewelry I'm wearing," says Zoe. "There's minimal chance you'll lose something valuable, and it's one less thing to jam into your bag." Try a delicate diamond pave necklace like this AF by Andrea Fohrman style.
A Mini Makeup Palette
"When it comes to color cosmetics, stick with one shade or bring a mini palette," suggests Zoe. Her collaboration with Lorac features two travel eyeshadow palettes that offer everything from dark smoky shades to barely there neutrals to help cover all the bases. Apply with your finger to save on extra space, and dip into the glitter to create a show-stopping look for New Year's Eve without all the sequin dress drama.
A Luxe Candle
It may seem excessive to travel with your own room scent, but it makes all the difference. "Whenever I'm on the road, a candle that reminds me of home, and makes the space feel more like my own, is a non-negotiable," says Zoe. It's the little things.
Every item is available in the Winter Box of Style.