The Night Creams You Need For Your 30s, According To A Celeb Facialist
Amazon/Bustle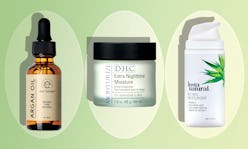 You've got it together. Great style, great friends, the list goes on. And your 30s is the time to seriously have your skin-care routine together, too. This is the time when cell turnover slows down and all the daily damage from the sun, pollution, and late nights will start to show more. To repair that, you'll need one of the best night creams for your 30s.
While morning routines should be focused on protection (sunscreen is a must even in the winter), nights are all about repairing skin from your full days of running around. That means antioxidants, according to Joanna Vargas, the celebrity facialist behind Mandy Moore, Elisabeth Moss, and Constance Wu's glows. "Antioxidants help cell regeneration and protect against cell mutation," she explains. Slower cell regeneration is why people often see more pigmentation, dullness, and texture at this age. Standout antioxidants for her? Argan oil and retinol are two of Vargas's favorites for those in their 30s.
Beyond antioxidants, you'll want a night cream that hydrates deeply as that skin can often become drier in your 30s than in the 20s. And another ingredient Vargas recommends are peptides, fragments of proteins that help firm and smooth skin.
When applying a night cream, be sure to hit the neck and décolletage, too. Since the skin there is thinner, it's extra sensitive to the elements. You don't have to spend a lot for results. Below, the best night creams for your 30s on Amazon: