Solange's Hairstylist Used A $4.99 Hairspray At Mugler — & It Looks SO Good
Julien de Rosa/EPA-EFE/Shutterstock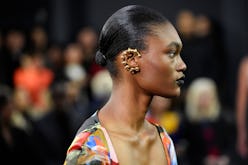 Paris, the city of lights and Ladurée macaroons, is typically considered an expensive one — and the designer pieces shown at Paris Fashion Week are just as luxurious. So naturally, it's easy to assume the backstage hair and makeup products would be similarly costly. But if New York and Milan are any indications, pro artists don't mind using budget products to get glamorous results — including a $4.99 drugstore hairspray that gives million dollar shine, as spotted at Mugler.
The brand is best known for more conceptual looks that veer on the sexier side, but it had a chic and cheap secret behind the looks. "The inspiration of the show is to capture each woman in their own essence," Jawara Wauchope, London-based lead editorial hairstylist, tells The Zoe Report exclusively. "However, we wanted to give them a Mugler finish — the hair is a very intricate part of that." Jawara, who works with Solange and Bella Hadid, says the hair has "a little bit of shine to it...a little luster if you will — and I'm using oil sheen to achieve that." And he didn't rely on a $50 shine spray or a gloss. Instead, it was ORS Olive Oil Sheen — and it clocks in at under $5.
"It's literally found at any hair store in Flatbush, on New Lots Avenue, Jamaica Avenue, 125th Street, or the Bronx on Fordham Road. I'm using a can for each girl. It's the key product behind this look," he reveals. "I think the designer was looking for a very lustrous hairstyle, but still tailor-made to each person. Oil sheen gives just the right amount of luster but doesn't change the shape of the style. Some oils can change the hairstyle and you can't add too much structure into it."
And in terms of its difference compared to other finishing sprays, Jawara says that oil sheen sits right on top of the follicle and stays there for hours, making it perfect for catching the light. But for those of us not on the runway, he recommends only spraying the hair for a count of five seconds — no longer than that. "If you do too much, the hair will get too greasy for the day," he advises.
The irony of using a beauty supply store classic at a fancy Parisian show is not lost on the pro. When asked why he chose the $4.99 product, he had a priceless answer: "As a hairstylist, oil sheen has saved my life. If we're going to sit here and act like oil sheen isn't what made Black hair what it is today, we have it f----d up," he jokes.
Perhaps that's why Orlando Pita had Let's Jam Shining & Conditioning Gel in his kit at Michael Kors, or why Yusef used regular $10 kanekalon hair extensions backstage at Fenty X Savage. The fashion and beauty worlds are slowly but surely amending their once-rigid rules and relying on more inclusive casting — and products — to help make sure that everyone looks as beautiful as they should.