Designers Think You Should Try This Swimsuit Trend In The Next 30 Days
@mikoh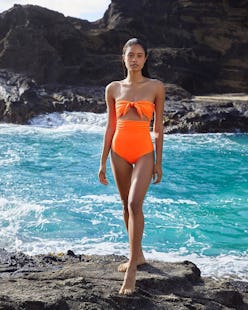 You're in the prime of swimsuit season. You've likely hit the beach once or twice already, but you still have plenty of summer getaways still ahead. Now that you've had the chance to evaluate how your swimwear is stacking up so far, you're taking a second look at what are the best summer swimsuit trends still worth trying out before the season's over. But, you don't have to go at it alone, a little expert advice can come in handy.
Since summer began, you may have noticed a range of bold colors, vintage-inspired silhouettes (think high cuts and belts), and animal-print pieces splashed across your Instagram feed. But, what do a few of the industry's top designers consider a worthy investment for the next few months? According to the women behind cool brands Mikoh, Sideway Swim, Eloquii, and All Things Mochi, there are a few unexpected and under the radar trends to jump on now, before summer's over. Luckily, these designers are also thinking about how to pull off these trends beyond the pool, so you'll get plenty of wear before the end of warm weather.
Ahead, find out which swim trends these designers think will have the potential to live on beyond the summer.
Sarah Godshaw, Founder, Sidway Swimwear
Though Sidway Swimwear has embraced '90s-inspired swim details for a few seasons now, Sarah Godshaw, the brand's founder and designer, notes that designs have evolved from late-'90s grunge to something even more retro. "Now, we're going into this early '90s, almost late '80s, tropical vacation vibe. It's a little bit more maximalist and glam," she explains. But, for those not ready for quite so much color, the designer points out that previous seasons' animal print isn't going anywhere, "It's a new neutral." Godshaw also notes that in many ways, cut has become a greater focus than the prints she chooses, "we've been sticking to the high waist and high leg."
As for styling beyond the beach she's for keeping things simple, and pairing your suit with beachy separates. She suggests "wearing the Karen bottom with our tie Nancy skirt, and then putting on a really lightweight cotton blouse and just tying it, with sandals."
Ayah Tabari, Designer, All Things Mochi
Dubai-based designer Ayah Tabari notes that she expects the brand's colorful aesthetic to be a universal hit. "Detailed embroidery, high cut legs, belts, rainbow colorways, and, of course, ruffles," are all key components of the brand's suits she explains. Adding, "the trends that are the most Instagramable will be something with staying power. Get ready to see colorful bikinis all over your feed."
As for styling, Tabari's philosophy is all about more is more, a fact which aligns with the brand's colorful aesthetic. "I love wearing swimsuits with huge statement earring, a big hat, and a colorful lipstick to match." For an evening out, add a simple slip or silk skirt, and finish the look with a pair of strappy heels.
Oleema Miller, Co-Founder & Designer, MIKOH
"It's all about bright, bold statement colors with complementary, subtle prints," says Oleema Miller, co-founder and designer of MIKOH. "Our summer collection is full of clean lines, modern cuts, and interesting silhouettes," she adds, highlighting the importance of balance — finding a suit that is sleek, but still statement-making. "Clean lines with a touch of hardware detail like metal rings add the perfect bit of an accessory when worn with interesting jewelry.
To take MIKOH's suits beyond the beach, Miller suggests swapping a top in for your traditional bralette, "a printed top works perfectly under a barely-there silk cami." She adds, "Summertime to me is all about easy, wearable styles, and a one piece in a clean silhouette pairs perfectly with vintage denim, under a crochet or breezy silk dress, sheer maxi dress, or with a bold maxi skirt."
Yesenia Torres, Design Director, Eloquii
This season, Eloquii's design director Yesenia Torres highlights an increased demand for statement suits, "The Eloquii customer has been loving cut outs, which is new for us, and pops of neon." She notes that she's increasingly seeing a rise in '80s and '90s-inspired suits, adding that Baywatch-inspired high-cut legs have been a top pick. "It's a simple suit, but [the wearer] is able to show a little bit more of her fit and it has more of a cheeky cut," Torres adds.
To transition a suit from the pool to activities afterward, Torres suggests styles that feature fun details like ruffles or cutouts. "It has more of a fashion element and it feels very versatile and transitional. If you wear a maxi skirt with it, it looks like you're wearing this year's most coveted top." Swapping a bright one-piece for a night-out top is an easy way to get more wear out of these bold suiting choices.