21 Of The Most Comfortable Heels For Work — & They're All On Amazon
Christian Vierig/Getty Images Entertainment/Getty Images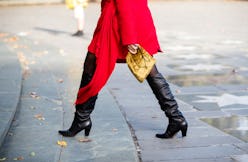 There's nothing like a great pair of heels to add a stylish, feminine element to your work-wear, whether you're the blazer and dress pants type or you have a job that allows you to be a bit more casual. But if you're on your feet all day, have a commute that involves walking, or are constantly running around, you've probably found yourself wishing for a more comfortable pair of heels. If you're arrived at this article hoping for just that, you're in luck, because these 21 pairs of the most comfortable work heels are stylish, sophisticated, and conveniently available on Amazon.
If you're new to shopping for clothes and shoes on Amazon, rest assured that their ever-expanding fashion marketplace now rivals the selection you'd find at your go-to department store. The only difference? Checking out only requires one click, and shipping is fast. Even better, some of the shoes on this list are eligible for Prime Wardrobe, which means you can test them out for up to seven days before committing to buying. If you don't love them, returns are free, and you only get charged for what you keep. And yes, if you already have a Prime membership, Prime Wardrobe is automatically included.
Whether you're looking for a pair of statement-making slingbacks, a chunky, cushioned bootie, classic pumps with arch support, or something else entirely, you'll find it on this list of the most comfortable heels for work, below.