This Subtle Accessory Was All Over The SAG Awards Red Carpet
Frazer Harrison/Getty Images Entertainment/Getty Images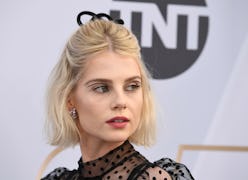 The red carpet at Sun.'s awards show seemed to see a very prominent theme. If you paid close enough attention, you probably noticed that one single (and super-feminine) accessory reigned. At the 2019 SAG Awards, black ribbons were all the rage.
From dainty little hair pieces to big, colossal bows billowing out from gowns (looking at you, Alison Brie), this femme feature was certainly the trend of the evening. As if you haven't already seen them adorning the accessory aisle of nearly every department store, the red carpet at Sun.'s SAG Awards was proof that ribbons and bows are making a comeback in the biggest way.
Lucy Boynton, who played Freddie Mercury's love interest in Bohemian Rhapsody, tied her half-up bob with a long ribbon, while Crazy Rich Asians' Gemma Chan actually rocked her second bow of the 2019 awards season on the back of her frilly pink gown.
Elisabeth Moss opted for a similar aesthetic, wearing a ribbon tie-belt around her waist, while Alison Brie went all out with the biggest bejeweled bow you've likely ever seen on the back of her dress. The Zoe Report rounded up five times the trendy black ribbon appeared at the SAG Awards, ahead.
Gemma Chan
You probably remember Chan's knockout gown at the Golden Globes (how could you not?). Her teal Valentino Haute Couture dress had a tidy bow tied at the nape of her neck, trailing down her back. This time, the Crazy Rich Asians actor's tiered Oscar de la Renta number featured yet another ribbon tied around her waist.
Lucy Boynton
The spotlight has been on this 25-year-old up-and-comer lately. For her inaugural SAG Awards look, she opted for the prettiest floral dress with mesh, polka-dotted overlay (fresh off the Erdem runway) and her subtle hair ribbon was, you could say, the icing on the cake.
Sophia Bush
Like Boynton, this One Tree Hill legend also elevated her hairstyle with a pretty black ribbon during Sun.'s ceremony. Rather than tying it in a feminine bow, however, Bush wore hers as a pseudo headband, holding together the most princess-like updo.
Alison Brie
You couldn't possibly have overlooked Alison Brie's bow, though. The actor, nominated for her role in GLOW, wore one of the most dramatic looks of the night. From the front, it looks like she's sporting a set of wings, but from the back you can see it's just one very large, embellished bow strapped to her dress.
Elisabeth Moss
As many times as Elisabeth Moss has graced a red carpet since The Handmaid's Tale became an immediate cult classic, you probably know by now that she likes to keep it simple. Her looks are always pretty, but she typically opts for a no-frills, monochrome gown. This time, she jazzed her white dress up slightly with a contrasting black ribbon belt.